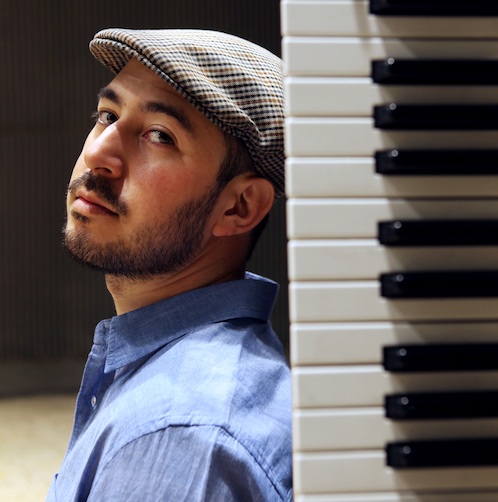 We've made no secret about our adoration for
Mark de Clive-Lowe
around these parts. Ever since he burst onto our musical radars 11 years ago, the New Zealander has been showcasing his talents on countless remixes, collabos, projects, and more. When he's not in the studio crafting new aural deliciousness, he still finds time to keep fans wanting for more by releasing free music on his blog and hosting regular gigs, all while crisscrossing the globe. While all of this would be a hefty feat for some, for the DJ, producer, musician, and current Los Angeles-resident, it's all in a hard day's work. Constantly working at perfecting his craft, it's easy to see why MdCL is a musical renegade.
Center
Soulbounce: First of all, you produce a ridiculous amount of music, while still managing to travel and do gigs and keep up your blog. Where do you find the time?
Mark de Clive-Lowe: (laughs) Well you know, there's 24 hours in a day, 7 days in a week. There's plenty of time. Making music is not difficult for me. And getting up and sharing it with people is fun for me. So at the end of the day, it's not like it's some real hard labor or some dawn-to-dusk job that I don't want to be doing. Then I could see how people would ask, "How do you do that?" But I just feel so blessed to get up every day and do what I love and have people want me to share that with them.
SB: You just celebrated the one-year anniversary of your successful monthly LA gig, CHURCH before bringing it to the east coast for the first CHURCH held in New York City in October. How did that go?
MdCL: It was so fantastic; it was a such a great ride. It was great to have some New York energy in it as well. CHURCH in NYC is always going to be different from CHURCH in LA or anywhere else. We had some great guests along with us [such as] Nia Andrews on vocals, Nate Smith on drums. It was great to finally be able to present the event in New York.
SB: I heard you say it will always be different in New York; does that mean there are more in the pipeline?
MdCL: We're having another in December [Friday, December 2nd at DROM] and if all goes well, we'll have a residency there next year.
SB: You're also celebrating the release of your latest album, Renegades. Tell us a bit about the recording process for that.
- Advertisement -
MdCL: Well, some of the material I started in the UK before I relocated actually, and then I started up again in LA. But wherever I go, I like to find some downtime. I love to hit venues or find somebody to work with. Pretty much while traveling, I connect with people. It's great to have collaborators and friends from different parts of the world.
SB: Would you say your sound has changed or grown over the years from project to project?
- Advertisement -
MdCL: It's constantly in a state of changing [and] growth that I hope would never end. A big part of being a creator and artist is that journey and the discovery of yourself. If that's no longer happening, then there's no point in doing it. But not withstanding that, definitely moving from place to place, it has affected me. I spent 10 years in London and that was such a hugely formative time for me that helped me transition and find more of my own sound as a musician. It's really interesting how the products stand up to each other. On a record like [2005's] Tide's Arising, I was hugely influenced by sounds around me at that time. Dwele had put out his demos, and there was all the Dilla stuff around. Those were influences. On Tide's Arising, to me, the London influence is most noted on tunes like "Heaven" and "Quintessential," the more downtempo stuff. More recently, I've really kind of come back to more of the musician in me, like with CHURCH being more of a live jazz thing. I mean you have the beats and the technology, but definitely more on the musician end of the scale. With Renegades, the transition is there and you can hear it. The musicality is more pronounced.
SB: You record your music in so many different places. How you maintain such a seamless and organic sound?
- Advertisement -
MdCL: I feel like as a producer, I really appreciate my senses and kind of get an overview of music in the process. So even when I'm recording here and have one person in another country, I kind of have an intuitive feel for what I want from them for a track. So um yeah, I guess I have a knack for that.
SB: You get some help from both Sheila E. and Omar on "Get Started." How did that collaboration happen?
- Advertisement -
MdCL: Omar and I knew each other from London and we talked a long time about collaborating. I actually did a remix on his last record a few years back, but we wanted to come up with a proper, original collaboration. He's obviously a real visionary artist and it was great for me to get to work with him. He really delivered another classic Omar vocal. And I was working on the track and finishing it up and felt like it just needed one more element. Actually the drummer, Lil' John Roberts, is on the record and he used to be in Prince's band, along with a few others, and he knew Sheila pretty well. I had met her at an event in LA, and I was talking to her and I think she kind of realized that I was the guy that John had been talking about. We talked a bit about maybe working together on some music and she said she was totally up for it. So when the time came and I was finishing up that track, I just thought she'd be the perfect addition. We ended up recording it at her home studio and it was such a beautiful experience. She's got such great energy with the music...just yeah, she's killing. I'm really hoping to do more collaborations with her at some point. She's just such a fantastic musician.
SB: What inspires you when you're creating music? Do you go in with anything particular in mind?
- Advertisement -
MdCL: I almost never have a pre-conceived idea. I just let it come out. I love that kind of discovery myself, when things come out that I'm not expecting. I always feel like no matter what you plan for, especially when it comes to something like this, it's always totally different from what I planned for. It's different if I'm say, working on a remix, but even with a remix, it's not that I have a preconceived idea; I just kind of make the remix and how it happens, it happens. I don't go into it thinking this is going to be a house track or this is going to be downtempo. I really just love to creatively flow and see where it takes me.
SB: Speaking of remixes, we loved the remix you did of KING's "Supernatural." How did that come about?
- Advertisement -
MdCL: Actually when the EP dropped, Duane Powell from Soundrotation, hit up a few of us and told us we had to check it out. So I did and I really liked it. "Supernatural" I particularly liked the feel of and knew I could work with it a little bit more, give it a little bit more tempo. So I reached out to Paris and told her that I loved what they're doing and I'd love to do a remix and I just went to work on it. I had a lot of fun in creating it and I didn't want to change too much; I just wanted to give it a little bump. I'm not quite sure when it'll be released for download though.
SB: As I mentioned earlier, you do a great job of blogging by keeping fans in the loop of what you're working on and constantly posting new music, at a time when it seems so many artists fight to keep things under wraps. Why is maintaining that connection to fans so important to you?
- Advertisement -
MdCL: Well, I mean, I think it's an important part, on a grassroots level. Especially with more of a niche sound, it's very important to connect with the audience. The audience is always going to be hungry, so I just feel like it makes sense. I mean, some things I won't let out, like I didn't let out the album until it was time. I would've loved to share it with people sooner, but it just wasn't the right thing to do with that music. But then there's always other things, like the song I did with Rahel ["Hope"], it just felt right to let that one out and share with people.
SB: You're in the midst of a UK Tour. Any upcoming North America dates?
- Advertisement -
MdCL: Now that I live here, I'm never far away from anywhere. CHURCH is doing well in LA and soon NYC. I do a house music party with Alix Alvarez every month called Body Rock, in LA. Then there's also a couple of shows in Denver and St. Louis coming up. I've got a new project coming that I'm going to debut in St. Louis in late November. So there's always something happening. People just need to keep in touch on any social media to keep up with what's happening.
SB: Before we let you go, tell us what prompted the move to the States and how long have you been here?
MdCL: I've been here in LA three years this month. I had such an amazing experience in the UK, but I got to a point where I felt like it was time to turn the page and start a new chapter. I wanted to have new challenge, opportunities and surroundings. And I just wanted better weather (laughs). It's funny, I was always trying to live in the States. I was on my way to New York and got sidetracked in London for 10 years. It's funny how things just kind of fall the way they want to. The UK experience was great, but I just kind of wanted to get out of it before it ended, so to speak. I wanted to leave on a high note. Things were going well there and it just seemed like the right time to move on to the next chapter.