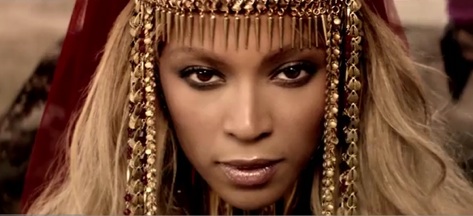 I'm sure that people must have thought I'd fallen and bumped my head when I proclaimed my love for
Beyoncé
's new single
"Run The World (Girls)"
a few weeks ago. I stood by my admiration of the track even in the face of so much disdain and the song itself even floundering on the charts. But I knew that eventually people would come around and see things my way. Eventually is now.
Center
Let's start by talking about her video, which no doubt everyone has seen by now if its' 17 million hits on YouTube in less than one week are any indication. The video has no clear concept, but what it lacks in substance it more than makes up for in style. Beyoncé is the Queen B, and she's leading the charge with her army of warrior dancers dressed like Apollonia 6. They're involved in some sort of standoff against a group of armed men who Bey mesmerizes with her Motherland-infused Harlem Shake, River Dance, Stanky Leg, and some moves I coulda sworn I just did on Dance Central the other day. There's even a lion, a stallion, and hyenas, oh my!
Oddly enough, the video didn't knock my socks off like I hoped it would. What the video didn't do for me, however, Bey's performance on last night's 2011 Billboard Music Awards more than made up for. In what has become the talk of the telecast, Beyoncé sang and danced against a ginormous video screen in a precision performance that was next level. Inspiring some to compare her BBMA "Run the World (Girls)" performance to Michael Jackson on Motown 25 -- let's not get carried away here -- Beyoncé all but shut it down with a troupe of over 100 dancers. She was there to pick up the Billboard Millennium Award, and in case you questioned how at just 29 years old she could be deserving of such a prize, this was your answer.
Oh, but the Beyoncé Double Dutch Bus didn't stop there. Although this was taped last week, Bey's surprise for Oprah on her farewell spectacular aired today, and this may very well be my favorite "Run the World (Girls)" performance of all so far. Why this gets the edge for me is due to the fact that Bey actually sounds good for the duration of the song, and I loved the sexy smart chick theme. And it only made sense for Bey to sing the song for Oprah since she does, in fact, run the world.
Whether you are now a fan of "Run the World (Girls)" or not, is of no consequence. Don't fight the force that is Beyoncé. It's a losing battle. Trust me, I've been there. Go ahead and learn all of the "Girls" choreography, because this is just the beginning of a long, hot, and blonde summer. The Queen is back to rule.
- Advertisement -
Beyoncé's 4 hits stores on June 28th.
- Advertisement -