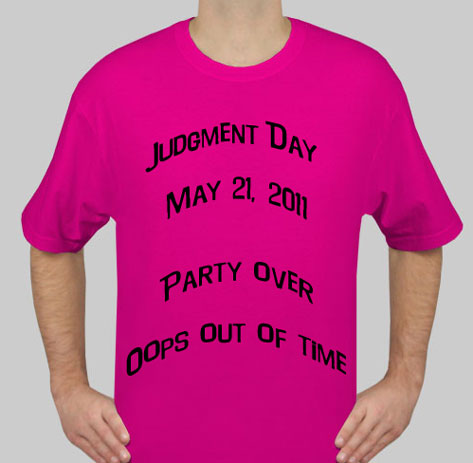 To hear many tell it, come Saturday, May 21st the world will end. No, not some time in 2012, which is another popular belief, but tomorrow. That is allegedly the day of the Rapture when Jesus is coming back to earth, even though according to Jesus himself in the Bible, "no one knows the day or the hour." This supposed end of the world this weekend was calculated not by a scientist or scholar, but by
Harold Camping
, a popular radio evangelist. Is Camping right? I guess we'll find out on Sunday. But in the unlikely event that Judgment Day jumps off tomorrow, what is a music lover to do?
Center
I've seen numerous Rapture playlists, and Blondie's "Rapture" and Anita Baker's "Caught Up in the Rapture" are getting numerous spins today if for no other reason that they have that word in their titles. But although I love both songs, I'm trying to listen to all the Stevie Wonder, Prince, Michael Jackson, Maxwell, Fred Hammond, and Eric Roberson I can before my iTunes of life gets wiped out. If given the choice, though, I don't know what song I would want playing on my way outta here. Do I choose "Adore" or "Ascension"? "Rock With You" or "Rocket Love"? Soulful house or gospel? The thought alone is sending me into a tizzy, and surely I can't be the only one.
So, I pose the question to you, dear SoulBouncers, if the apocalypse goes down on Saturday, what is the last song you'd ever want to hear?