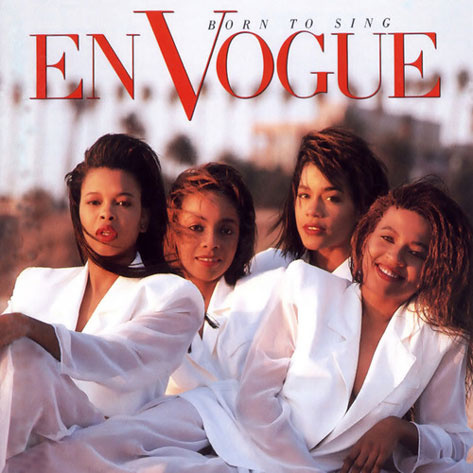 In 1990, I was a geeky teenaged thickum struggling to fit into a world that was less than welcoming. Holding myself against society's standards, I wasn't light enough, thin enough or cute enough (in hindsight, surely the jheri curl that was perched atop my head and the Sally Jesse Raphael red-rimmed eyeglasses perched atop my nose didn't help matters much). Point blank, I was downright awkward. Escaping into the world of music videos I found on BET, MTV and The Box provided an escape from my inability to slim down my hips. It was in videos that, despite the images I'd find in my copies of Sassy magazine, that I could find women who looked like me. One day after school, one video in particular caught my eyes. It started off simply enough. Four beautiful women with hips that looked a lot like mine, singing an a cappella rendition of Smokey Robinson and The Miracles' "Who's Lovin' You." However, what came next would set the tone for the musical landscape of the early '90s. The video was from newcomers En Vogue and the song was "Hold On" from their insanely good debut album, Born To Sing. Oh. My. Goodness. I wanted to be them.
After dealing with a gaggle of forgettable female groups in the '80s, En Vogue was a breath of fresh air. Here was a group of gorgeous women who didn't just look good in mini dresses; they could actually SANG. I mean, of course, there were Vanity 6, Apollonia 6 and Klymaxx who I can think of right off the top. But it wasn't so much their voices that I admired. It was their style, their confidence and sex appeal that I aspired for once I reached adulthood. But in En Vogue, we found all those things and more. We found ridiculous vocal talent. While most groups featured one really good singer and a couple of pretty girls floating around and dancing in the background, this was a group where ALL of the ladies could hold their own. Although the group's formation wasn't organic, who could complain about production duo Denzil Foster and Thomas McElroy's creation when it involved the unabashed star power of Cindy Herron, Maxine Jones, Dawn Robinson and Terry Ellis?
Born to Sing went on to make the ladies platinum selling stars. Aside from the major success of "Hold On," the album would also spawn two more number one singles, "Lies" and "You Don't Have to Worry." The album's fourth single, "Don't Go," wouldn't chart as high (as if reaching number three on the Billboard R&B chart is a bad thing), but to this day, it is still one of my all time favorite En Vogue ballads. They would go on to win seven MTV Video Music Awards -- more than any other female group in MTV history, along with six American Music Awards and four Soul Train Awards. Billboard listed them as the 18th most successful act of the 1990s.
Though in the years to follow the group would experience growing pains in the form of a rotating cast of members, it would be almost 20 years after their initial formation before the original members would come together once more to perform alongside Alicia Keys at the 2008 BET Awards. There, they proved that they still had it with an on-point performance of "Hold On."
Watching that show and the response they garnered reminded me of the impact the ladies of En Vogue had on the music world. It also reminded me how much they changed my self-perception. Rather than feel awkward about the size of my lower half, I found myself embracing it. A little too much, if you ask my mother, who was appalled when I showed her my Halloween costume for that year -- a black spandex mini-dress and a pair of black pumps. My girls and I had decided to go as En Vogue.
- Advertisement -