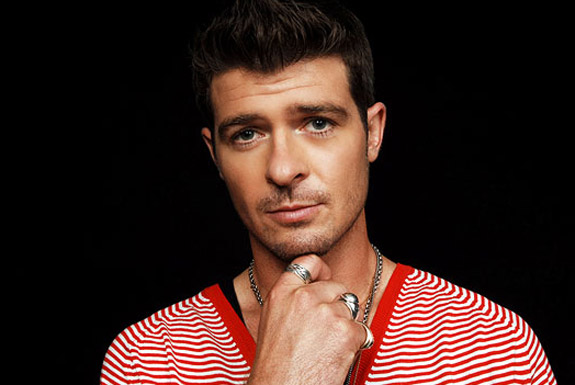 I used to adore
Robin Thicke
's music. Well, let me clarify. I respected the man's music when he was
unshaven, indie and eclectic, doing a (white) Jesus impression, and struggling to sell records. Back
then, he went by "Thicke," and his debut,
A Beautiful World
, was the standout of 2003 in my eyes, if
you ignore "Crazy In Love." I actually bought a copy (eight in all) for each of my friends. Thicke was all
over the place musically, and it worked for him. He was a child of the
Stevie Wonder
school of soul,
impressed by
Lenny Kravitz
rock and stoned on
Jamiroquai
funk. Thicke was ambitious, hungry and
generally unclassifiable. I loved it. And then he met
Pharrell Williams
. And years later, the soulfunkrock gem I knew in 2003 now works
Justin Timberlake
's shift at WhiteBoys-R-Us, churning out forgettable hooks and duets with any rapper
who shows him a check. Enter:
Swizz Beatz
. When Toucan Sam isn't abandoning women, he's making
mediocre mid-tempos. This brings us to Robin Thicke's latest, "So Cold." The stripped down, eerie
track features Robin's signature falsetto and is pretty typical Swizz Beatz affair (translation: there
are whistles). Let's hope it's unfinished and that what's lacking is the actual beat. Take a listen to the
collaboration below.
Center