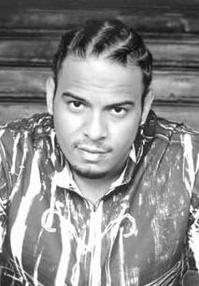 After hitting the music scene with such promise in 1989 with his debut album,
Adventures In Paradise
,
Christopher Williams
was thought by many to be the second coming of
Teddy Pendergrass
with his gruff vocal stylings and movie star good looks. Although he didn't become a movie star, he did go on to act, most notably in the film
New Jack City
, but by the mid-'90s, Williams fell off with a thud after releasing three albums. He resurfaced with an independent release in 2001 and has been seen in a few stage plays over the years, but for the better part of the decade Christopher Williams has been missing from the music scene. Until now, that is.
Leave it to noted musician Norman Connors to bring Christopher's talent back to the forefront on his latest compilation, Star Power, which was released late last month. Williams can be heard alongside jazz pianist Bobby Lyle on the song "I Used To Be," and it's a grown and sexy groove that fits Christopher's voice like brand new shoes. Although I like this song, I don't quite love it. This would have been a much better track without the played out chorus about drop tops and bling bling, which gives this song a whole old man in the club vibe. That musical misstep aside, Christopher sounds great here. His voice is on par with his previous material, which is a beautiful thing to hear in this unfortunate age of non-singing singers. Hopefully this song isn't the last that we'll hear from him until God knows when, but we'll definitely be seeing more of Williams in the next year or so because he has no less than four new films listed on his IMDB profile. Until we next get to feast our eyes on Christopher Williams, feast your ears on this.
Norman Connors feat. Christopher Williams & Bobby Lyle: "I Used To Be"


Norman Connors: Star Power [Amazon][iTunes]