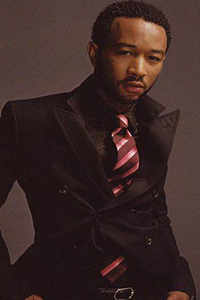 It's weeks before the album is even released and
John Legend
has announced that the lead single from
Evolver
, "Green Light," has been remixed by
Swizz Beats
. Apparently the single is but a shadow of its original self, with a slower, more R&B beat and with
T.I
. replacing
André
3000
. Hopefully it's so far removed from the catchy original that it can stand and be judged on its own. It's interesting that for all the talk of trying to break away from being a mid-tempo crooner with songs like "
Green Light
" and (to a lesser extent) "
It's Over
," this remix sounds like it will pull him right back into that role.
There's no telling when it will be released, and Legend only offers that we will hear it "soon." Ultimately this remix will be but one morsel in the ongoing smörgåsbord of build up to his album's release that has already fed us the majority of its contents. Here's to hoping that people don't push away from the table because they're already full on October 28th. [MTV]