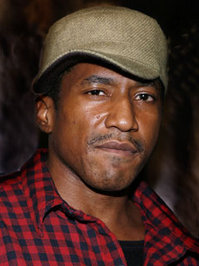 You would think that after being part of the wave of artists ushering in hip hop's "Jazz Age" and having your videos played an innumerable number of times on
BET
would get you some love from an afterthought network such as BET.
Q-Tip
thought that this fact, coupled with the fact that
he agreed to be on
Rap City
during its last days, would give him instant access to having his newest video "
Gettin' Up
" played on BET, again a much overlooked network amongst people who know better. While I feel Q-Tip's pain at being told by the network that the video was "too different" and then discovered that his video wouldn't even be listed in a poll on
106th & Park
for viewers to vote on, what did he really expect? Respect? From a network that
Donnie Simpson
would even be ashamed to be affiliated with today? A network that even its
former CEO admitted
was never begun to "be anything more than a money-making entertainment channel" and not be a source of upliftment? But, I digress. Q-Tip explains on his
MySpace
blog that "BET kinda played me" and is asking fans to know that by telling this network that his video should be seen, this will help pave the way for underappreciated artists such as
Mos Def
and
Pacific Division
to get their music heard on the network, too. 
While Q-Tip is clear to not cite fault with BET, many people still do, myself being one of them. Let's just all agree that Viacom-owned networks (VH1, MTV, and BET) are not the place for fairness and being on the cutting-edge of music. Let's just also agree that most of these networks' programming are a waste of time. To that end, you could always do what most of us do when it comes to finding "real" music: read blogs such as this one and watch his video on YouTube which Q-Tip pointed out is already at over 100,000 views. In the end, it appears as though Q-Tip really shouldn't be too concerned with BET not playing his video at all. He will hopefully soon have all the exposure he needs once his 
Renaissance
 hits stores November 4th. 
Q-Tip Calls On Fans To Help Video Get Played On BET
 [
XXL
]