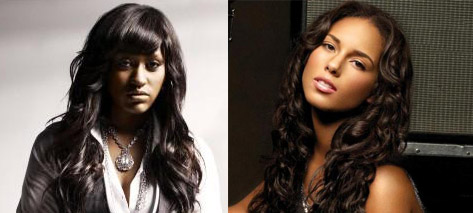 This time in the Battle of the Beats we pit established versus upcoming, strained versus unforced: Alicia Keys versus Jazmine Sullivan. The interesting rhythmic punctuations on Keys' "I Need You" and infectious riddimic swells on Sullivan's "Need U Bad" are arguably the most dynamic elements of these songs, almost overshadowing each singer's distinctive and powerful voice. Keys wails in that patented, nearly uncomfortable rage of hers about no two things going together better than her and the object of her affection, while Sullivan effortlessly infuses her mellifluous voice into the claim that she needs her love as badly as she needs food. Both play to their strengths on these tracks in an attempt to convince you of how badly and deeply they need.
You tell us, in this battle for affection who wins you over?
Alicia Keys: "I Need You"


Jazmine Sullivan: "Need U Bad"


Alicia Keys [Official][MySpace]
As I Am [Amazon][iTunes]
Jazmine Sullivan [Official][MySpace]
"Need U Bad" [Amazon][iTunes]
Debut Album Fearless Available 9/23 [Amazon]
- Advertisement -