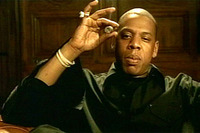 Not to begrudge the success of our Hip Hop brethren, but maybe it's time to have yet another discussion about Art vs. Commerce.
As many of you know, Forbes released its list of Hip Hop's top earners for 2008. They call them "Cash Kings," even going as far as referring to Jay-Z (#2) as a "demigod." This is par for the course in Forbes' lasting legacy as a chronicler of who makes what. But while we're patting Jigga, 50 Cent, Diddy and Kanye on the back for making that cheddar, let us not care so much.
We've reached an unfortunate point in Hip Hop where we've become so distracted by an artist's earnings that we almost never hold them accountable for their product. This isn't to say the artists listed don't work their asses off (you pretty much have to these days), but we've gotten away from boiling the music down to the music. Seeing our brothers rise to CEO status and never have to worry about living check-to-check or hustling on the street fills many in our community with a sense of pride. That we, as a race, can list this among our many overlooked accomplishments. We use their earnings as a qualifier for their artistry. How many times have you expressed that someone's latest CD was sub-par, only to have the fact that it's going platinum thrown back in your face?
Money has made Hip Hop lazy. Some of the best lyricists are hungry to the point where we can't help but relate to them on the most basic human level. Same goes for many of the R&B/Soul artists we highlight on this very site, that tour and toil until they're out of breath yet probably will never see the returns of their mainstream counterparts.
When I listen to an album, I want to hear an artist. Not a businessperson.
The Business Of Hip-Hop: Hip-Hop's Cash Kings 2008 [Forbes]
- Advertisement -