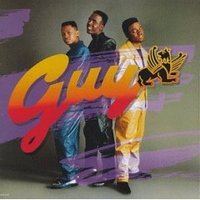 To say there is something about this song that I like would be a gross understatement. The truth is, I love everything about
Guy
's "I Like," which happens to be the group's third (THIRD!) song in this countdown's top 30--and my favorite track from
Teddy Riley
and
Aaron
and
Damion Hall
. I remember where I was when I first heard the song (business school) and will never forget how I rewound that tape (WHAT? It was 1988!!!) constantly, just trying to wrap my mind around the bass line Riley put together. It was obvious that he was experimenting with this one, adding different types of horns and percussion, with Aaron doing what he did best,
ad libbing
both at the beginning and
end of the song
. To me, it was the perfect personification of New Jack Swing (not to mention a karaoke singer's dream!). I'm not the only one who loved it, either, as it topped out at #2 on the U.S. Billboard R&B Hot 100 and, at the same time gave dudes tired of trying to sing slow jams a more uptempo way to woo the ladies.
OK, so here's what I need you to do. Stop what you're doing, press play on the file below and crank it up as loud as you can stand it, all the while reminiscing about where you were the first time you heard "I Like." And then, love it all over again. Go!
Guy: "I Like"