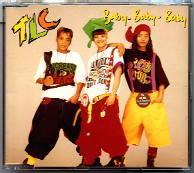 In a year that also saw releases by
SWV
and
Mary J. Blige
,
TLC
was part of a New Jill renaissance. The colorful baggy clothes, the obnoxious accessories, and preponderance of prophylactics presented
(gotta love that alliteration)
a new image to the R&B world: the young woman with a decidedly Hip Hop swagger that could chill with the fellas and make fun of herself, but could also claim her sexuality and exude confidence without being labeled a tramp.
After the blazing introduction of "Ain't 2 Proud 2 Beg," the ladies followed up with "Baby, Baby, Baby," in which T-Boz forthrightly declared her interest to the player in question, but required some conversation to go along with the physical aspects of the relationship. Chili co-signed by letting the brother know that she has options, but when she chooses you, you better bring your A-game. Universal sentiments to be sure, but the track was an immediate example of the ladies' topical range and laid the groundwork for their most acclaimed effort, CrazySexyCool. With that, TLC belongs on this countdown and has to be saluted as the most interesting, worthwhile and talented girl groups to emerge in the past 20 years.