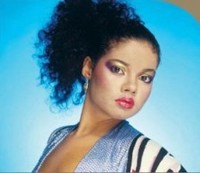 Today, May 2nd, is the birthday of the diva known to many as
Angelita de la Noche (Little Angel of the Night)
. We know her best as
Angela Bofill
, the professionally trained Latina soul singer whose powerful, distinctive voice gave us such hits as "This Time Will Be Sweeter" as well as a remake of
Jennifer Holliday
's "I'm On Your Side." It was just after recording her "Live From Manila" album in 2006 that she suffered a stroke that left her paralyzed on the left side. She suffered a second stroke in July 2007, leaving her speech-impaired and facing the possibility that she would never sing again.
Her long-time friend and producer Narada Michael Walden organized a benefit to raise funds for Ms. Bofill's long-term care, which now includes 24-hour care and intensive therapy in San Francisco, where she now lives. As we salute her on her 54th birthday, take a listen below to two of my favorite Bofill tracks, "Angel of the Night" and "I Try." And then go on by Angela's web site for more information on how you can contribute to the Angela Bofill Foundation.
Angela Bofill: "Angel of the Night"


Angela Bofill: "I Try"