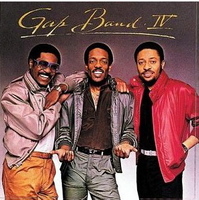 It goes without saying that if it were not for this track that provided the backdrop for many trips down memory lane,
Charlie Wilson
would not have been able to stage his late '90's comeback. "Outstanding" is one of those tracks that makes you feel warm and fuzzy from the moment you hear the bass line drop in the beginning of the song. If it were not for
Stevie Wonder
, whom Wilson has credited as a musical influence, we would not have the near falsetto infused with intricate melisma that Wilson and Wonder are both known for. In turn, if it weren't for Charlie Wilson, the influence of
Aaron Hall
and
R. Kelly
on contemporary R&B, as much of a disappointment as it is, would not have taken root with today's young stars. Interestingly, it wasn't until their sixth album that
The Gap Band
achieved critical success, and not until 1983 that this track dropped. "Outstanding" is the type of song that can turn gray skies to blue, crushes into love, and water into wine. Especially the extended version. Not dancing to this song when it comes on is equivalent to musical blasphemy. So go ahead, dance by yourself. We won't tell.
The Gap Band: "Outstanding"