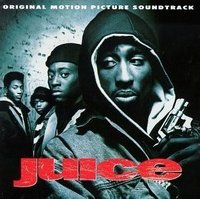 All week long, I'll be diggin' in the crates, coming up with some much-overlooked soundtrack soul. And with it being Women's History Month, the tracks will feature some of the best female artists you may have never heard of, or at the very least, haven't heard from in a while.
First up is one of my personal favorites from the 1991 Juice original motion picture soundtrack: "Is It Good to You," which featured honey-throated Tammy Lucas flowing flawlessly over a Teddy Riley beat (Heavy D & the Boyz used the same track for their 1991 Peaceful Journey LP).
After finding stumbling across her MySpace page, it's apparent Ms. Lucas has been quite busy, lending her ample voice to many projects as well as compiling a gang of songwriting credits. To name a few, did you know hers was the voice that whispered, "Baby, don't go" on Guy's "Goodbye Love"? Or that she has writing credits for SWV's "Use Your Heart" and The Winans' "A Friend"?
Yup. Other guest shots include A Tribe Called Quest's ("1nce Again"), and bringing it full circle, Tammy appeared, er, once again with TR and his Blackstreet boys on the original version of "Tonight's the Night." (Props to anyone who can name the artists that appeared on the remix.) Just because I care, I've included that cut below as well.
Now, please excuse me as I continue diggin' for more gems.
Teddy Riley feat. Tammy Lucas: "Is It Good to You?"


Blackstreet feat. Tammy Lucas: "Tonight's the Night"


- Advertisement -
Tammy Lucas [MySpace]
- Advertisement -