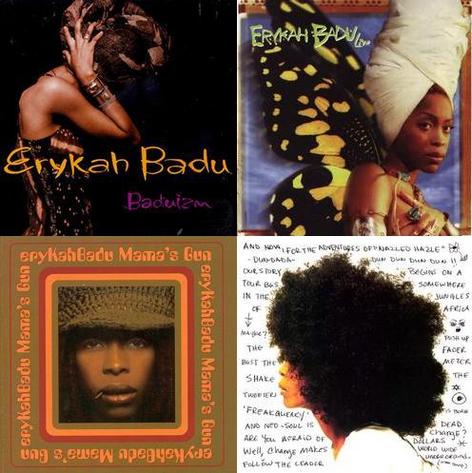 With today's release of Erykah Badu's fifth CD, New AmErykah, the SoulBounce crew thought it'd be a fine time to look back at her first four albums and share our opinions on each. You may be shocked and awed at some of our personal revelations, or you may find yourself nodding your head in agreement and co-signing in the comments. Either way, there's no denying that Erykah's music elicits a passionate response and always gets people to talking. Join us while we reminisce.
Baduizm
nOva: I hated this album. I purchased it off the strength of "Next Lifetime" (which I quickly tired of) and found most of the tracks to be a bit too "A-B-A-B" and simplistic, like a Dr. Seuss book. However, "Otherside of the Game" was in heavy, heavy rotation. I think it holds up more than anything else from that album.

Butta: When I first heard "On & On," Erykah's voice was an acquired taste for me. However, after hearing more cuts from the album it didn't take long for me to crave the entire thing. Once I got the CD, it became instant vintage the moment I heard it. She had so many excellent cuts on here: "Otherside of the Game," "Next Lifetime," "4 Leaf Clover" and "No Love" were my standouts.

ill Mami: I loooved this album. I still do. This album represented so much to me at the time, especially since I was making the transition from adolescence into adulthood, and I was tres Afrocentric. I still am.




I remember I got a dub of the mastered album which was on cassette, and I was the only person on my college campus who had it, so for myself and all of my friends, by the time

Baduizm

was released, I couldn't really listen to it anymore. But I always bumped "No Love," mainly because I felt she was chronicling my relationship with my then college sweetheart.




I then saw her a few months later with headwrap in full effect at the House of Blues in New Orleans, on tour with The Roots. And when I saw her -- pregnant, comical, beautiful, and unapologetic -- I knew that she was the epitome of everything I wished I could be.




Harlem: Looking back, my favorite track from this CD was "4 Leaf Clover," a remake of the classic Atlantic Starr joint. I could listen to it over and over, each time more mesmerized by the way she flowed over the naked beat. There was just something about this joint, the way she ad-libbed and scatted, that officially made me an official member of E-Boogie's stan club.
Live
Butta: I just recently heard this album in its entirety, and I was mad at myself for not getting hip to it sooner. Of course, the year that this joint dropped, you couldn't go anywhere without hearing "Tyrone" and I was worn out from all the times I heard females saying "you better call, Tyrone" when their men weren't acting right. I almost felt bad for any brother with that name 'cause you know he constantly caught it. But for anyone who has seen Badu in concert, this is the perfect companion if you want to take her show home with you, and trust me, after hearing her kill her live version of "Stay," you do.

- Advertisement -

ill Mami: I thought this album was one of the best albums that I had ever heard at the time. I was truly stanning for Erykah at the time, and having seen her perform live already, it was great to be able to relive the concert in the comfort of my home. Plus, I loved her version of Chaka's "Stay" because she really let go and blew it out the water, even hitting all the high notes and errythang. Truly magical.

Harlem: A live touch is just what that first CD needed. It was fuller and richer than the original, like an injection of botox into painfully thin lips. This is where Erykah was in her element, free to be E. "Otherside of the Game," "Ye Yo" and "Stay" were my faves from this classic.

- Advertisement -
Mama's Gun
nOva: There isn't enough time for me express how much I adore this album. The entire thing is art. Erykah channeled something here that was so pure and soulful that it literally stirs something inside of me from beginning to end. This album is huge to me. Nothing will ever come close to the mastery of this joint. Ever.

- Advertisement -

Butta: When I first bought this album I wasn't feeling it at all. The mood of the album was darker than her first two discs, and it didn't move me the way that Baduizm did. Then on top of that, the album version of "Bag Lady" wasn't the one that was played on the radio with the harder beat that Dr. Dre also sampled. Needless to say, I was not a happy camper. But then after a few years passed by and life and love kicked me in the proverbial ding ding, I just so happened to revisit this disc and fell in love. It spoke to me on so many levels at that point in my life, and I bumped "Didn't Cha Know" and "Bag Lady" like they were brand new. Still do.

ill Mami: I was in medical school at the time, so I was not the happiest camper. The somber tone of this album was welcoming to me since that's how I was feeling at the time. I loved the progression of this album, too, i.e. it starts out upbeat and seemingly happy, but then ends on a note of heartbreak and the hope of healing one's own wounds on "Green Eyes." In many ways, I think of this as Erykah's "My Life." Like Mary was reeling from the heartbreak she suffered with K-Ci, Erykah was coming to terms with her own pain with Andre (pre-3000). I also loved the original version of "Bag Lady" on this album and how it leads into my other favorite from this album "Time's A Wastin'."

- Advertisement -

Harlem: Yeah, I loved everything about this era, from the "Bag Lady" video down to the toothpick in Erykah's mouth on the cover. My favorite track, however, was "Didn't Cha Know." With lyrics like "Time to change the world/Where in the world is all the time," how could I not love it? Seriously.
Worldwide Underground
nOva: The first time I played this album all the way through I was fortunate
enough to be spending quality time with someone-- cooking food, sipping
cocktails, entertaining friends. The album played throughout the entire
house because of the sound system. It was a smooth, grown-up jam
session, like Badu was performing for us. When it was over, we went
right back to the beginning because we were that blown away. I honestly
believe this was the day that seeded my current love for modern,
dope-ass soul music.

- Advertisement -

Butta: I loved this album from the minute I plopped it into my CD player. You could really hear Erykah tapping into her hip hop side on this album both lyrically ("Danger" is straight gangsta) and sonically (the beats were so sick). I will still bang this one because the music is current and doesn't seem dated. "I Want You" was my favorite cut from this joint, but I also dug "Bump It," "Back In the Day (Puff)," "Danger," "Think Twice"--dammit, who am I trying to fool? I love the whole thing.

ill Mami: It's funny how for some strange reason, I hadn't even known that this album was even coming out until someone offered to burn me a copy. In any case, while this was not my favorite album of her discography, it is still dope, and definitely had its moments. In my mind, I really consider this album more of an EP than an entire album. My single favorite track from this album is "I Want You," and I love her brazen confidence when she sings "I know you're a little nervous/ I know you really want this." Classic Badu.

- Advertisement -

Harlem: It was Badu over hip hop beats! What was there not to love? With just a few songs, it was like she was giving us a small sampling of the "other side" of her game. "Danger" and "Back in the Day (Puff)" are joints I still rock to this day.
- Advertisement -
- Advertisement -