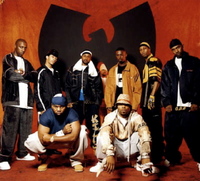 Apparently all is not well within Shaolin.
Raekwon has recently gone on record to express his dissatisfaction with Wu-Tang Clan leader, RZA, and his less than enthusiastic opinion of the new Wu album, 8 Diagrams. According to Raekwon, RZA has been "like the hip-hop hippie..he's [so] into the guitars now." Creatively, Rae has said that RZA has not been open to the democratic process when it comes to their new album and has been attempting to incorporate more instrumentation into this album, much to the dismay of fellow Wu members. Rae is also upset about not being monetarily compensated for some Wu concerts this past summer.
Ghostface Killah has also been feeling hot regarding the new Wu release especially since his new album, The Big Doe Rehab,which had been slated for 12/4 release up until late last month, was to be released the same day as 8 Diagrams. It was decided in late October, however, that The 8 Diagrams would be released a week later in order to quell further tensions within the Wu-Tang camp. Ghost further has added that his album would have been finished if he hadn't had to take time out to finish the Wu project.
This could be a tricky one, folks. I definitely see this one blowing over, but at the same time, who's more correct here? RZA is truly a gifted musician, having scored several movies and produced nearly all the Wu projects, and has been establishing himself (rather well) as an actor in such movies as
American Gangster
and
Derailed
. And while the Wu members want democracy, a dictatorship may be better when it comes to the final product. Let us not forget that the Raekwon albums post-
Cuban Links
haven't exactly done well financially, nor were they honestly very good.
It was so nice when things were so simple:
Raekwon Reveals the Turmoil Within the Wu-Tang Clan
[
Miss Info
]