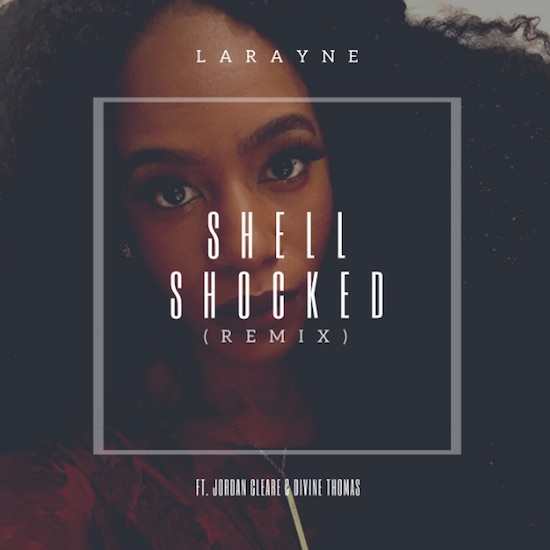 Jersey City representative Larayne may be talking about holding back on her new single "Shell Shocked (Remix)," but she holds nothing back for the release, dropping both the updated audio and a lyric video and adding two more artists, Jordan Cleare and Divine Thomas, into the mix.
While bubbling underground on the tri-state indie performance circuit, Larayne waited almost two years to create this follow up to her acoustic release "Shell Shocked" featuring IamChelseaIam. However, she felt the time was right for a sequel after the recent loss of featured rising star Cleare to COVID-19 complications.
The track, produced by Savion Studios and Larayne herself (using a foundation laid by rapper/producer-turned fitness guru Brandon "King Keto" Carter), gives early aughts Toni Braxton vibes. The petite powerhouse chooses to flutter through the verses, matching the hesitance described by the lyrics with metaphorical lines. "I, I, wanna be, wanna be us / I think I put you through enough / But in this war of the roses, got nipped in the bud / It's this thing they call love that I'm a prisoner of," she sings. Ironically, her confidence shines the most when singing the hook, comparing approaching new love to active duty PTSD. That confidence is matched refreshingly by the late Jordan Cleare, whose presence is a nod to '90s male crooners with his velvety tone. Meanwhile, the rap feature by fashion vlogger Divine Thomas pulls us into the early-2000s with a repetitive Cam'ron-like flow.
Dedicating the "Shell Shocked (Remix)" to the memory of Jordan Cleare, Larayne seems poised to hit the scene even harder this time around.
- Advertisement -