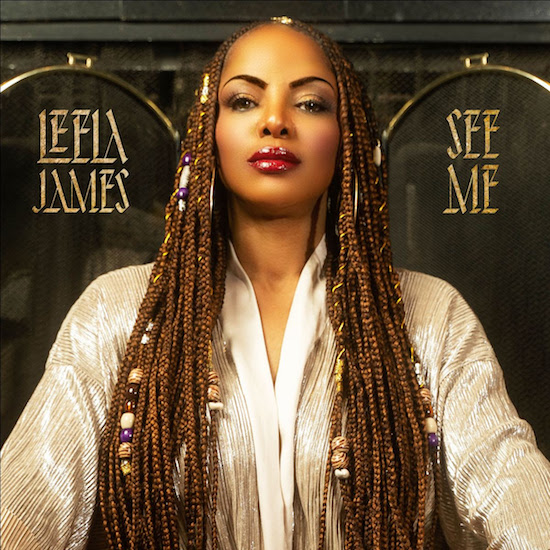 As an artist, Leela James could easily coast on the caliber and uniqueness of her vocals alone. Instead, she consistently delivers something deeper: An audacious authenticity. Not to mention, a seasoned timbre and sage pen that belie her years. These qualities have helped her stand out, from her 2005 debut all the way through to the present. So it's no surprise that her latest release, See Me, is well worth your time and your money.
She recently expounded on the title of her seventh studio album to Rolling Stone, saying, "That was dedicated to the industry, a letter about how I was feeling as an artist, a woman, an African-American woman, who is feeling unseen. It's like, 'Hey, I need you to see me, because I've been working really hard for many, many years." Say that, sis!
Leela maintains this realness throughout each song on See Me. The set opens with the unfettered boldness of "Break My Soul," an empowering anthem featuring a prolific verse by Mumu Fresh. "Can't keep a real woman down / We bounce back, never rebound," Leela authoritatively sings. Other songs benefit from this same spirited approach – whether dealing with bad relationships like "Put It On Me" and "Angel In Disguise," or protesting injustice like "So Far Away." But lest you label her an angry Black woman, know that Ms. James ignites her romantic side with just as much passion. It's hard not to get caught up in '80s-style grooves like "Complicated" and "You're The One." She's even more captivating on "I Want You," a bluesy, vintage soul tune filled with sultry smokiness and desire.
The title track provides another opportunity for Leela to shine. Over an acoustic guitar arrangement accentuated with finger snaps and hand drums, she is downright vulnerable as she emotively sings, "I am somebody just like the rest / But you look right through me, even when I give my best / What do I do after I give my all to you?" In contrast, James also provides an opportunity for us to move and groove on "Sippin'," a fun tune with plenty of sauce and swag. Steeped in late '70s/early '80s funk, "Rise N Shine" closes us out on a sunny high. The infectious bop will leave you smiling and sock-skating into the weekend.
As longtime fans and lovers of soul music, we just want to say, "We see you, Ms. James! And we appreciate your artistry." See Me is available for purchase via major digital retailers. For those who are ready to venture out, Leela is currently on tour through the fall. Visit her website for dates and ticket info.
Leela James See Me [Amazon][Apple Music][YouTube Music]
- Advertisement -