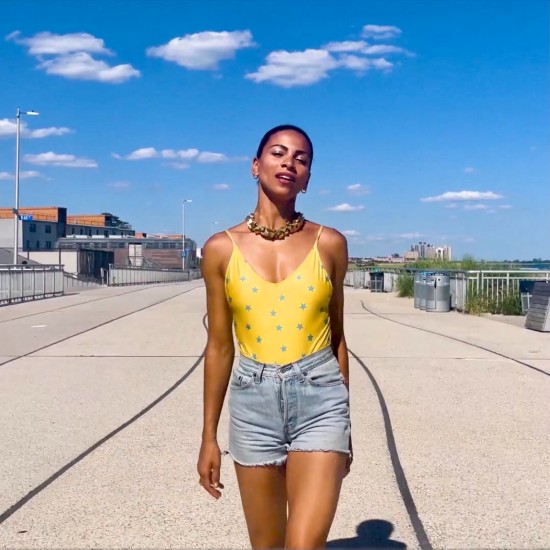 Summer is in full swing and our favorite bass-playin' beauty just dropped a timely addition to our warm weather playlist. As she prepares to drop her sophomore EP next month, Adeline saw fit to gift anxious fans with "Eternity," a feel-good bop detailing an unexpected yet carefree love affair. Netherlands artist Joshua J flows effortlessly on the track, showcasing his vibrance and versatility. Adeline shares, "This is my first single with a rap feature, and I'm so glad to be working with Joshua J on this. We wrote 'Eternity' about getting caught off guard by love, falling fast, and deciding to flow with it. I hope this record helps listeners stay open to pleasant surprises this summer as the world reopens."
Self-directing the accompanying visual alongside Sheena Sood, she brilliantly captures all the joy and freedom one associates with this time of the year. Viewers get their entire lives vicariously through Adeline and her crew, as various hues of sun-kissed skin, roller skates and bubbles paint the perfect setting for letting it all go. Always one to trigger both excitement and envy with her videos, her latest installment of creativity from the "cool kids" is right on brand.
Watch Adeline's "Eternity" featuring Joshua J below and be sure to add the track to your collection from your preferred digital platform. Keep an eye out for her forthcoming EP, which is set to drop on August 27th, as well as tour dates for this fall.