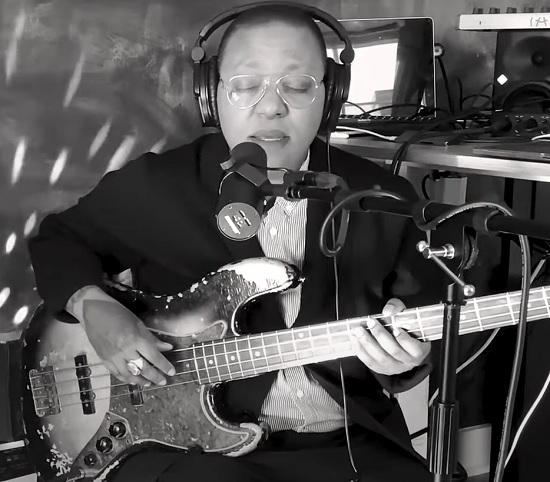 Meshell Ndegeocello is perhaps one of our most respected singer-songwriters. In her 27 years in the business, she's released several thought-provoking albums that smash through the walls of genre and reveal her respect for her craft. So when she announced on Instagram that she would be performing for NPR Music's famed Tiny Desk Concert series and polled her followers about what songs they would like to hear, she got a plethora of responses that spanned her entire discography. She chose well for her edition of the program, giving us a few unexpected moments in the process.
She opened with her song "Step Into The Projects," lifted from her debut Plantation Lullabies. She boldly turned the song from a jazzy love song to a moving spoken word piece. The only thing to mark the song's rhythm is Meshell's own voice (which, even when just speaking, is one that we can listen to all day). It's a perfect intro to the rest of her set, as the artists and her trusted guitarist Chris Bruce traipse through different periods of her career with their selections. The two start off with "Price Of The Ticket," lifted from her recent James Baldwin tribute project Chapter & Verse: The Gospel of James Baldwin. The subtly arranged song is gripping as she sings of the cost that exists to be Black in America, with her singing directly to a police officer as she begs for him not to shoot. She then takes us to her 2014 effort Comet, Come To Me with "Forget My Name." The complicated song, which originally had a reggae-influenced sound, deals with those performing heinous acts in the name of religion, isn't any less haunting in an acoustic setting and might even resonate more here. She ends things with Bitter track "Fool Of Me." More than 20 years after its release, the song still has the ability to floor us in any iteration, especially with simple guitar arrangement that highlights the brokenhearted lyrics.
Meshell Ndegeocello will always be held in high regard and her turn on Tiny Desk (Home) Concerts just further cements that her artistry is unmatched. Watch her transform her own work below.