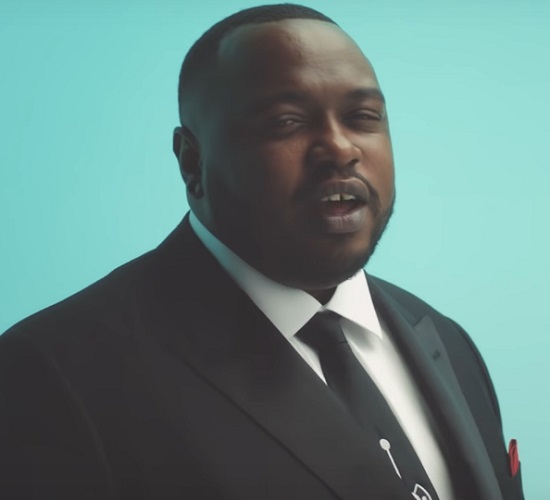 James Fauntleroy
 has been dropping loosies like they're hot for quite a while now, including his recent joint 
"Rolex,"
 leading us to wonder if he had something cooking up. Turns out, he does. After years of hoping for news of an actual solo album, James drops his first-ever music video "Dying From Crying," which is taken from his upcoming debut album of the same name. Yes, you read that right.
Seeing as it's his debut clip, he had to do it in grand fashion. Therefore "Dying From Crying" is a 10-minute epic that is actually comprised of three videos for three songs — "Dying From Crying," "Heaven's Gate" and "Cyanide." Each song is a moody look at love and the changes catching feelings puts you through. And since Halloween is near, he throws a fitting dose of the supernatural into the mix.
In the video, James plays a vampire who's having relationship issues. It starts with "Dying From Crying" and him literally hanging out above his girl's bed crying tears of blood as he laments the pain she's put him through. They end up in an argument outdoors that ends with her flexing some powers of her own just before a mysterious gang shows up. It's the perfect segue into the "Heaven's Gate" section, which finds the vamps in what almost seems to be an elaborate morgue. Though seemingly morbid, the romantic vibe of the song and eventual party-like atmosphere (not to mention the trippy visual effects) keep things pretty wavy. The vibe completely switches for the final section "Cyanide. " The most intimate portion, it features James and his lady in billowing fabrics as the acoustic guitar welcomes viewers into the tranquil setting. Though it has its own weird moments (that arm, though), it's the most straightforward of the three sections because of its focus on the relationship between our two leads without interruption.
With this video and these three songs, we can't help but be excited about what James has in store on Dying From Crying or to hear when exactly we can expect it. Since he's being a little tight-lipped about it, we'll just have to wait until he's ready to share more. That being said, you can get into James's supernatural epic below.