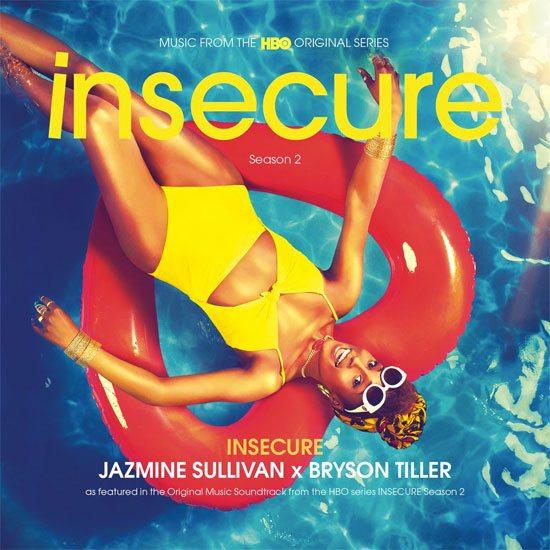 Let's imagine that Jazmine Sullivan is on #TeamIssa and Bryson Tiller is in the #LawrenceHive. Now take that imagination and put it to use when you listen to their duet entitled "Insecure," the new theme song for Issa Rae's super successful HBO comedy now in its second season.
The duo team up to deliver a single that oozes pure R&B and hurt feelings. Jazmine and Bryson's voices make a surprisingly complimentary match as they sing about a struggling relationship. Jazmine airs her grievances on the chorus, singing, "Why you gotta' be so insecure? / When I did all I could do, but you be wanting more / And why you can't get up off my back? / And I can take a lot of s**t, but I won't take that." Sullivan handles the bulk of the song and has a lot to say, but Tiller holds his own on his verse, bringing the male perspective on their sticky situation.
Both Jazmine and Bryson are making moves in their respective lanes. Bryson dropped his sophomore album True to Self in May and most recently had some "Wild Thoughts" with DJ Khaled and Rihanna on their strong contender for Song of Summer '17. He also just set off on his Set It Off Tour in Atlanta with H.E.R. and Metro Boomin. Jazmine, meanwhile, has been focusing on collaborations lately, recently teaming up with Mali Music for the standout track "Loved By You" from his latest album The Transition Of Mali. She's been rocking it on the road, too, and if you're in the DMV area, you can catch Jazmine Sullivan this weekend at Summer Spirit Festival in Columbia, Maryland. She'll be taking the stage on Sunday, August 6th along with The Internet, SWV and Bell Biv DeVoe.
Listen to "Insecure" below and try not to get in your feelings while debating whether Issa or Lawrence ruined the relationship. Expect to hear this track on an upcoming episode of Insecure and listen to the rest of our Insecure Season 2 playlist on Spotify.