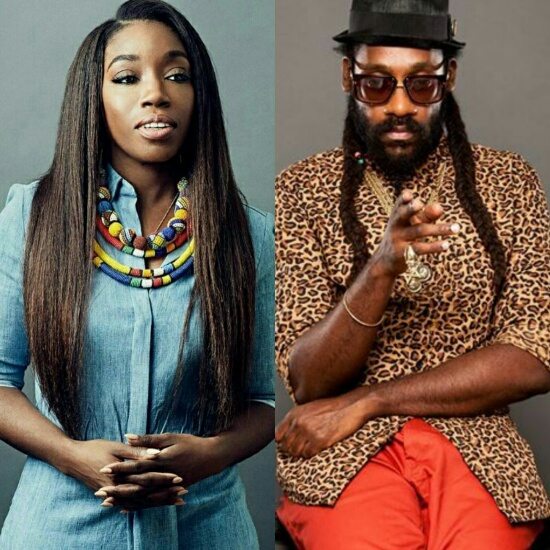 This past February, we followed singer/songwriter Estelle as she and radio host Dion "Deezy" Summers cruised through the streets of L.A. in a 2017 Lincoln Continental. As we jammed along to an infectious reggae-tinged groove called "Be In Luv," our anticipation began to build for her upcoming fifth album. Unbeknownst to us, however, the snippet was also a hint of some major news. The British darling has now revealed that her next project will be a full-length reggae album due this fall via a new deal with the legendary VP Records.
In celebration of the announcement, Estelle is giving fans a likkle sumthin' to hold us over with a mid-tempo summer whine called "Love Like Ours." Ironically, the track has something in common with the R&B artist's first crossover hit, 2008's "Come Over" remix featuring Sean Paul - both were produced by GRAMMY Award-winning producer Supa Dups. With its breezy guitar licks, wavy synth and heavy riddims, the balmy groove featuring reggae star Tarrus Riley is sure to become a summer playlist staple. The duo's musical chemistry is a vibe and serves up a perfect intro to Estelle's new sound.
While there's no official title yet, Estelle revealed that the sound will "showcase the pivotal influence reggae music has had" on her Senegalese/Grenadian upbringing by offering "a unique fusion of lover's rock, afro beats and dancehall flavors anchoring her soulful, R&B vocals." She admits via press release, "When I told some friends about doing this album" said Estelle, "they were like - 'finally!' Everyone who knows me, understands the deep connection I have to reggae music. I'm happy to give the people what they have been asking for and I'm proud to share another piece of my life and art with the world."
Estelle has been a SoulBounce fave since we first began, so we are definitely excited to see the end result of this new direction. In the meantime, you can find us grooving along to "Love Like Ours" which will be available for purchase on July 16th with a video premiering soon afterwards. Follow Estelle on Instagram and Twitter for details, updates and more.