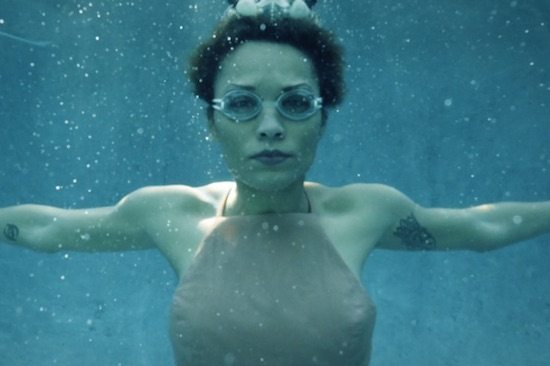 When we last caught up with Los Angeles native Brit Manor, she underwent a transformation in the visuals for her single "Only Child" that had us transfixed. The singer/songwriter/actress returns with another music video that we can't take our eyes off of with an engrossing clip for her song "Under Water."
The track, also found on Manor's mini-album Only Child, receives a very literal interpretation from director Wade Allain-Marcus who takes viewers underwater with Brit. Our leading lady is seen in a pool swimming beneath the surface. That in itself wouldn't be out of the ordinary were she not fully clothed in a dress, goggles and a crown made of seashells. While she's in the pool, she notices a mic stand, which she swims to and grabs the mic. Brit starts singing and performs like she's on dry land. She is even joined by her band who back her on their instruments and try not to float away as they play the drums, guitar and keys. Everyone's movements are slowed down in this aquatic dream world illuminated by sunlight.
Manor may sing, "Cause it's hard to breathe underwater / It's hard to see underwater," but she is showing no signs of distress here. It isn't until near the video's end when she is joined by more people who swim with her only to swim away and leave her alone that Brit looks even the least bit troubled. That brief moment of panic gives way to resolve, and she finally decides to rise to the surface.
Brit Manor makes quite a splash with "Under Water," which showcases her soulful vocals on the bluesy ballad and highlights another facet of the eclectic talent. In the event that you missed Only Child when it dropped last May, discover it now on Bandcamp and dive into our exclusive world premiere of the "Under Water" music video right here.