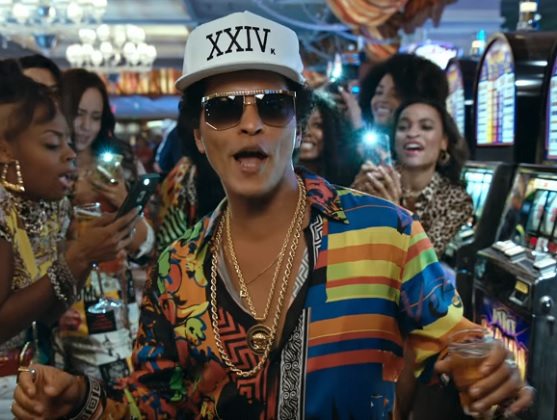 Bruno Mars back! Though his collaborations with Mark Ronson for 2015's Uptown Special made it seem as though he was everywhere, the pint-sized crooner actually hasn't released an album since 2012's Unorthodox Jukebox. That drought ends soon, though, as Mr. Mars is gearing up to release his upcoming album 24K Magic next month. But before he does that, he drops of the jammin' title track as the set's first single and visual to get the party started.
"24K Magic" finds Bruno peddling in the '80s funk sound that he and Mark explored on "Uptown Funk," this time channeling Lakeside and Zapp & Roger alongside The Gap Band. The results are even more playa-rific and pimp-tastic. After a dose of nostalgic vocoder, Bruno and the boys demand that you "put your pinky rings up to the moon" as synthesizers blare and the drums hit harder than a mofo. From there on, it's nearly four minutes of Bruno talking more s**t than Morris Day during ladies night at First Avenue. But don't worry, Bruno makes sure to hit you with his signature vocals on the chorus, singing, "24 karat magic in the air / Head to toe, so playa."
For the song's video, Bruno and his Hooligans storm the Las Vegas strip decked out in Versace short sets and designer sweatsuits while dripping gold from their necks and fingers, because that's what players do. As they party under the flashing lights of casinos, jet ski across the fountains at the Bellagio and stay on their worst behavior at the MGM Grand while throwing out dollars and popping bottles, they make it all look like the party that we really wish we would've gotten an invite too (maybe next time, Bruno?).
"24K Magic" is definitely music crafted for your auntie and uncle, but it's a jam that everybody can get with. Check out the Spotify stream and video below and be sure to pre-order 24K Magic on iTunes ahead of the set's November 18th release.
- Advertisement -