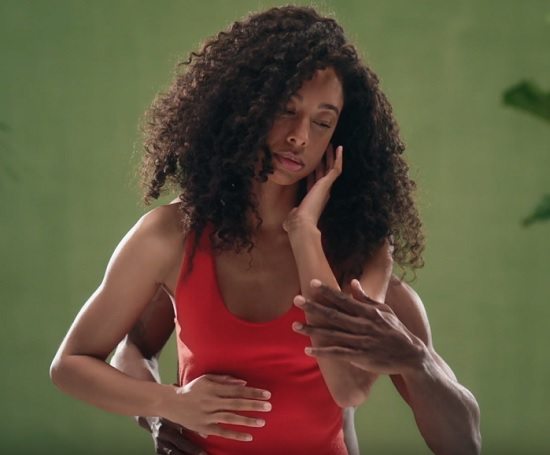 Her new album might be titled The Heart Speaks In Whispers, but Corinne Bailey Rae has made quite a bit of noise with the singles she's released thus far from the set — including her most recent offering "Hey, I Won't Break Your Heart." She's also been giving us a visual feast with colorful visuals for singles "Been To The Moon" and "Stop Where You Are." Now she's bringing us another vibrant video with a sensual clip for "Green Aphrodisiac," which shows Corinne in a completely different hue.
She keeps things rather simple for the clip, utilizing only a multicolored backdrop, two dancers and some leafy, green plants. However, though it doesn't seem like much can be done with such a limited amount of resources, the British singer/songwriter makes it work in spades. That's because director Eva Vasquez recreates the intimate feel of the song within the video's visual cues. Most scenes that the dancers appear in, they envelop Corinne like a second skin, touching her and moving with her fluidly. Even with all this going on, Corinne still manages to keep the camera's attention on her, changing outfits more than a few times (even daring to go topless, with only a gold-painted leaf protecting her modesty) and fixing us with her enchanting come hither look.
With a little more than a week to go until The Heart Speaks In Whispers is released, you can rest assured that we'll be watching this one more than a few times between now and May 13th. See what we're talking about when you press play below.