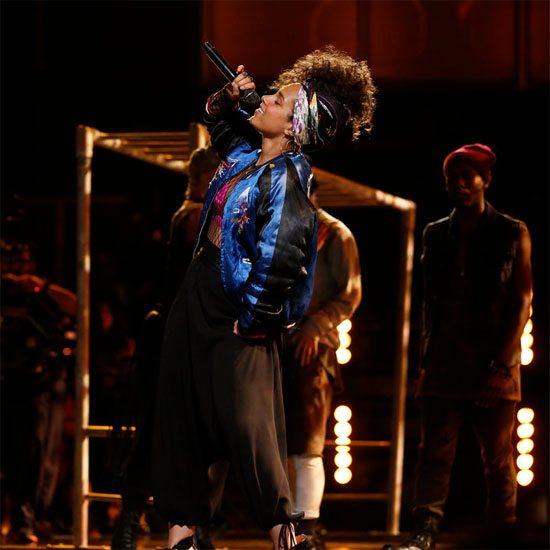 Alicia Keys is pulling out all the promotional stops in support of her newest single, "In Common." She's already graced plenty late night stages with the track, including a performance on NBC's Saturday Night Live. Now, however, she's taken the song primetime with last night's performance on The Voice.
Keys, who has also signed on to be a coach for the televised talent competition, stuck to her SNL formula as she stood in front of an upright piano with her curls peeking through the scarf tied around her head. However, while she was confined to a small stage on the SNL set, Alicia had much more space to play around on The Voice and she surely took advantage. During the song's chorus, the camera panned to reveal a troupe of dancers who wasted no time getting into the groove. Alicia soon stepped away from the keys herself to take center stage while delivering the rest of the song. While the singer didn't dance — at least not anything more than a two-step and a few gyrations — she did allow herself to get caught up in the performance and intensify her energy near the end.
Are you loving "In Common"? If so, you'll definitely want to check out the performance, which you'll find below.