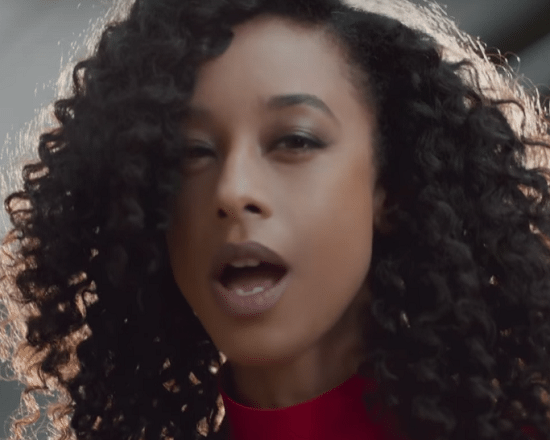 Corinne Bailey Rae has been delivering in the lead-up to her upcoming album The Heart Speaks In Whispers. Not only has she been giving us quality in terms of the singles released thus far — "Been To the Moon," "Green Aphrodisiac" and "Stop Where You Are" — but she's also given us one beautiful and dynamic visual for lead single "Been To the Moon." The singer continues to give us breathtaking visuals with a clip for the inspirational "Stop Where You Are" that captures the song's message quite elegantly.
The clip begins with Corinne, ever the fashion plate, wearing the hell out of a fiery red sheath, her natural curls cascading over her shoulders as she sings opening strains of the song. To match the song's quiet strength, the camera doesn't move at a fast pace, instead opting to gaze at Corinne and the various characters who appear throughout the clip. We meet a young girl who doesn't seem to fit in, a rowdy group of tough chicks, a homeless man who is ignored by the world and a couple of young men who prove to be quite talented dancers. Of course, the connective tissue between all of them is Corinne's urging for all of us to stop and observe the life we're leading, essentially encouraging us to live and be present in the moment that we're in. With such a powerful song and such a beautiful visual to accompany it, it's hard not to heed her message.
The Heart Speaks In Whispers will arrive on May 13th, but while the anticipation is high for the release, take a bit of Corinne's advice by stopping what you're doing and enjoying the clip for "Stop Where You Are" right here.