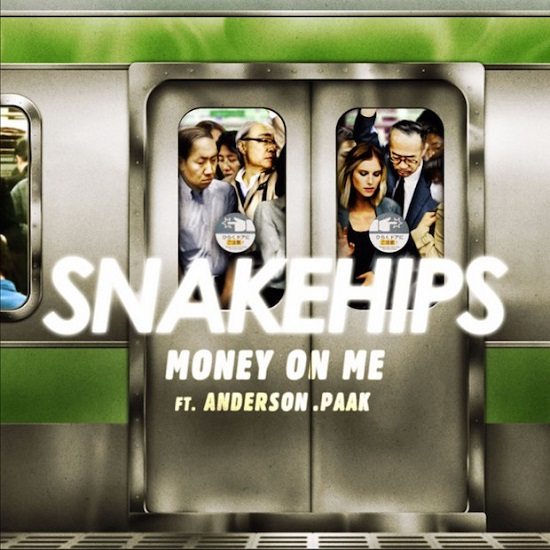 Anderson .Paak might've dropped one of the year's best albums thus far back in January with Malibu, but the up-and-coming singer/songwriter has shown no signs of slowing down in the months since. Aside from promoting his own project, he's shown up on quite a few others (and that's despite his busy touring and festival schedule). But somehow, he also found time to collaborate with yet another act, UK electronic duo Snakehips, for their single "Money On Me."
Snakehips lay down dope production on the truck, with wavy synths ebbing and flowing against stuttering drums, rapid-fire hi-hats and digital bleeps creating an intriguing soundscape. It's the perfect backdrop for Anderson's raspy voice, which he uses to great effect. He rap/sings through the verses, letting his lady know that he's someone worth investing in. But this ain't the usual beggin' and pleadin'. Anderson makes a good case for what he can do with just a few C-notes lining his pockets when he sings, "I know you ain't a risk seeker / Never ever seen your own peek / Never push it to the limit / Let me show you what to do with all these / Damn lemons, I ain't tryna squeeze you /But put the money on me."
"Money on Me" is one of four selections from Snakehips' upcoming EP All My Friends, which includes — you guessed it — the Tinashe and Chance the Rapper-featuring "All My Friends" as well as collaborations with Malika and Tory Lanez. Take a listen to "Money On Me" here and then check out the tracklist for All My Friends, which drops on April 15th, below.
Snakehips All My Friends Tracklist:
1. All My Friends [ft. Chance the Rapper and Tinashe]
2. Money on Me [ft. Anderson Paak]
3. Falling [ft. Malika]
4. Dimelo [ft. Tory Lanez]