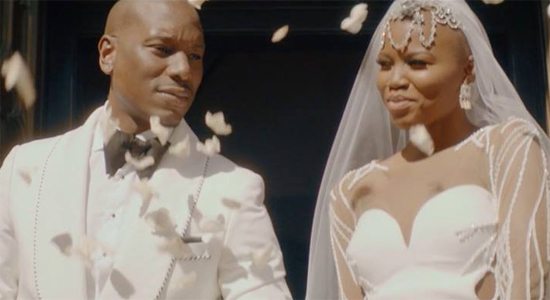 If you've been looking for a newer, shorter and blacker version of The Notebook, crooner Tyrese is here to give it to you. The crooner just released the full version of his short film for The Black Book, which he previewed earlier in March. Featuring singer and actress V. Bozeman, the full movie is just as dramatic as the trailer. The movie opens with a scene of an old couple celebrating their 45th wedding anniversary. While the husband paints a beautiful picture of their love, the wife is visibly confused (the entire movie) because she's suffering from memory loss. We're then transported into the young couple's life, filled with enough drama, cursing and fights fit for World Star Hip Hop (who actually premiered the movie).
V. Bozeman gives a soul-stirring performance as she sings through her pain and cuts up her man's shoes during the first track, "You Can't Break Me." Moving forward, we watch Tyrese lie and cheat on V. throughout "Waiting On You" until she gets a ring on that finger as Tank joins the happy couple in "Prior to You."A reflection of some modern day relationships, the movie had its extremely real moments, while scenes of the old couple made it a little less believable.
Tyrese's ultimate goal, as he wrote on the description for the video, is "to save our beloved genre R&B Soul." He also mentioned he paid for the trailer out of pocket and is giving you the short for free in hopes that you'll purchase his album. Hopefully The Black Book reminds you why we love and respect Tyrese's voice in the first place because the brother can  sing. The script and acting in The Black Book definitely won't get any Oscar nods but it's certainly entertaining. You can support Tyrese by getting Black Rose at any music retailer and by cozying up with some popcorn and a friend, to watch The Black Book and chill right here.