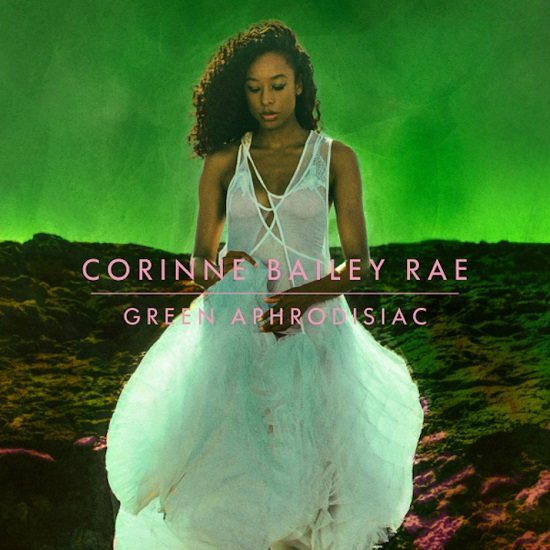 Is anyone as excited as we are about the return of Corinne Bailey Rae? We've already played her gorgeous single and video "Been To the Moon" to death and have already marked our calendars in anticipation of the release of her upcoming album, The Heart Speaks In Whispers. And just when we thought that we couldn't get more excited for the album, Corinne goes and drops another dose of loveliness with her latest single, "Green Aphrodisiac."
If you couldn't tell by the song's title, "Green Aphrodisiac" finds CBR tapping into her sensual side as she crafts a serious bedroom jam for all the lovers out there. It opens with a few sweet notes on the Rhodes and Corinne's pillowy soft vocals caressing our ears ever so gently. Soon, though, snaps come intermittently and then are followed by a slinky bass line, strings, drums and some of the lushest backing vocals that we've heard this side of KING. Speaking of which, "Green Aphrodisiac," like "Been To The Moon," also has the distinction of featuring songwriting and production from sisters Paris and Amber Strother. Their influence is definitely felt, though we're also getting some of the '70s soul leanings of Corinne's 2010 single "Closer," which also found the singer getting sultry.
Yep, after listening to that, we're definitely hot and bothered to hear more of The Heart Speaks In Whispers. While we're pretty sure that we'll get another listen from the album before it arrives in stores on May 13th. But until we do, we'll just revel in the pleasure that is "Green Aphrodisiac." You can, too, when you hit play below.