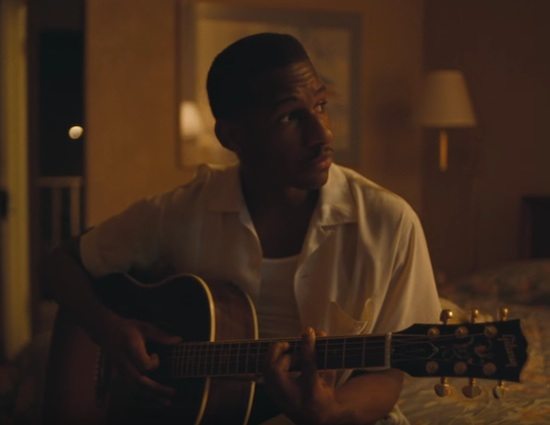 Singer/songwriter and multi-instrumentalist Leon Bridges may still be fairly new to some, but his talent and soulful style reminiscent of 1960s rhythm and blues is eerily familiar. Vintage and progressive all at the same time, Bridges has offered a powerful new video for "River" aimed at telling an optimistic version of the story of the Black struggle in America.
Infused with his take on soul, gospel, R&B and blues, according to Bridges the song was written when he "had little hope and couldn't see a road out of my reality." With Bridges' on vocals strumming his acoustic guitar, accompanied by a tambourine and a chorus of singers, the gritty, honest and soul-baring emotion of it all comes to life.
"When thinking about how to best visually represent this universal battle, I reflected on the depiction of black communities in our media and particular experiences within my own life," said Bridges in a recent interview with NPR.
Written and directed by Miles Jay, "River" was shot in Baltimore where Freddie Gray's April 2015 death sparked citywide protests. "River" finds Bridges back in the center of that despair on a quest for hope. He uses upsetting shots of a man walking away from a crime scene with a bloody shirt later switching to the same man cradling his toddler in his arms seeming to protect him from the world he'll grow up to face.
"River" helps viewers find solace knowing that despite the struggles with racial tension, violence and poverty, there's real hope even on the darkest or rainiest days. Ending at almost seven minutes with Bridges stepping out onto a motel balcony reaching his hand out to feel the rain on his skin, "River" showcases a level of compassion and encouragement that there's a brighter day coming.
"River" is the latest single released from Leon Bridges' debut album Coming Home available now.
- Advertisement -