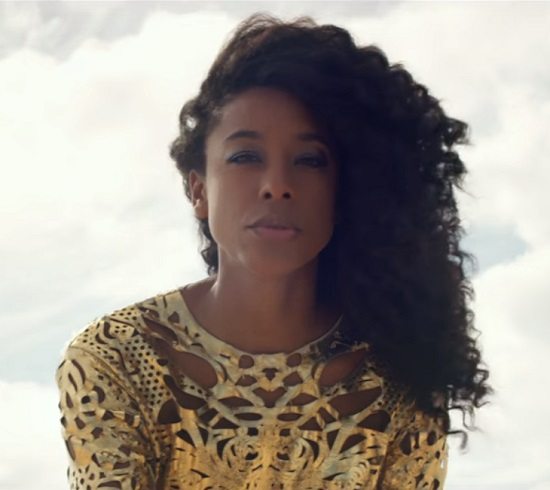 It seems like eons since we've had an album from Corinne Bailey Rae, but it's actually only been six years. Still, six years is a very long time to go without hearing an angelic voice like hers gracing her usual gorgeous production. But we come with good news: The wait is almost over! After teasing us a bit at the beginning of the month, Corinne has announced her brand spanking new album, The Heart Speaks In Whispers, and she's also given us new single "Been To The Moon" and its new video. Take a second to catch your breath.
You good? Well, it gets better. "Been To The Moon" is a lush love song that showcases Corinne's delicate voice in the best way possible. But while key elements that we expect from the singer are present (romantic lyrics, swoon-worthy guitar), there are thrilling new additons that remind us of some of our favorite moments from KING's recent debut (perhaps because she worked with Paris and Amber Strother to create the song). Synthesizers are prominent on the track, squelching and fluttering as she details the love she has for the object of her affections. And let's not even get started on the horns, which expertly punctuate the chorus and provide a soulful, jazzy coda at song's end.
The video matches the track's tone perfectly. Corinne plays a marooned astronaut who's crash landed on an unknown world. While she may not be familiar with the planet, she's definitely familiar with couture, rocking a shining gold jumpsuit with intricate cutouts, a rust-colored, '70s-inspired outfit and breathtaking silver dress. As she chronicles the desert-like terrain, she's all smiles, smoldering beauty and thick, curly hair, just the way that we remember her.
Bask in the the visuals for "Been To The Moon" when you press play. After that, check out the tracklist for The Heart Speaks In Whispers, which is out May 13th, below.
Corinne Bailey Rae The Heart Speaks In Whispers tracklist:

- Advertisement -
1. The Skies Will Break
2. Hey, I Won't Break Your Heart
3. Been to the Moon
4. Tell Me
5. Stop Where You Are
6. Green Aphrodisiac
7. Horse Print Dress
8. Do You Ever Think of Me?
9. Caramel
10. Taken by Dreams
11. Walk On
12. Night
Deluxe:
13. In the Dark
14. Ice Cream Colours
15. High
16. Push on for the Dawn

- Advertisement -