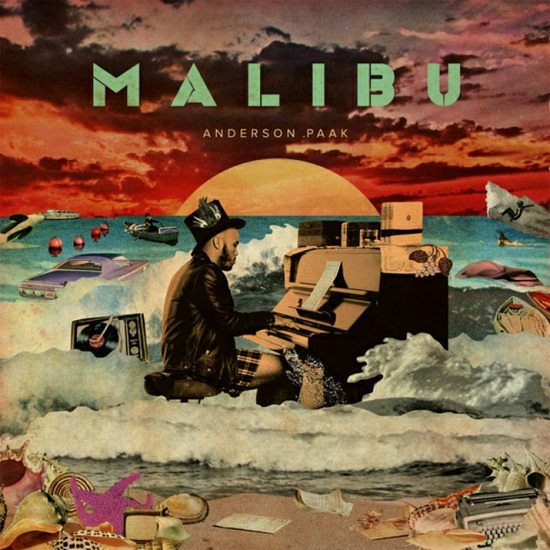 We admit it, we've been sleeping hard when it comes to Anderson .Paak. The artist formerly known as Breezy Lovejoy made a real name for himself last year, dropping two EPs and being prominently featured on Dr. Dre's comeback album Compton. However, even all that output couldn't have prepared us for the release of his second album under his new alias, Malibu.
Malibu finds the rapper/singer (or is it singer/rapper?) flexing his formidable artistic muscle as he paints a picture of his crazy Cali life. Perhaps that's why we get so many styles thrown at us throughout the set's 16 tracks, from old school soul to shimmery '80s-inspired boogie to neo-soul to backpacker hip-hop and everything in between. He kicks off with "The Bird." To borrow a word from Raphael Saadiq, it's a gospel-delic intro to the collection, with Anderson and his gravelly vocal relaying hardships and triumphs like a sermon. The sheer honesty welcomes us into the project with a familiarity that invites us to sit down and enjoy what's to come. And it comes fast. The gears shift quickly with "Heart Don't Stand A Chance," which channels the R&B stylings of someone like Bilal, though Anderson flips between rapping and singing here so effortlessly that you barely notice it at all.
From there, he moves through J Dilla-like production provided by Madlib on the BJ the Chicago Kid-featuring "The Waters" and 9th Wonder-produced two-parter "The Season | Carry Me." But he doesn't need big-name producers to pull off selling his brand of soul. He does just fine on his own with the throwback sounds on "Put Me Thru," "Parking Lot" and "Celebrate," each having a conversation with the past musically while the lyrics stay firmly in the present. He also takes some very rewarding chances with lesser-known producers making names for themselves. POMO lays down slick '80s funk for jumpin' single "Am I Wrong," which allows Anderson to put on his boogie shoes as he prowls the nightlife for someone to take home (and gets an assist from ScHoolboy Q along the way). Meanwhile, Kaytranada creates a sinister little groove on "Lite Weight" that combines Anderson's rasp with distorted vocals and even a choir to further seduce the listener.
Of course, with 16 tracks, there's bound to be a bit of filler. Though in the case of Malibu, even filler tracks like Hiatus Kaiyote-sampling "Without You" (a he said/she said track featuring Rapsody), "Water Fall (Interluuube)," "Your Prime" and closer "The Dreamer" (a triumphant number featuring yet another choir and Talib Kweli) are pretty damn good in their own right. The main problem with them being included here is that they drag down the album's pacing slightly, making one eager to press the skip button to get to other tracks that edge them out in terms of creativity and replay value.
Speaking of replay value, other than what's already been mentioned, there are gems here that will have you hitting repeat quite often. The blistering "Come Down," on which Anderson flexes his flow over a piping hot production provided by Hi-Tek, and the tender "Room In Here," which might actually make you like a Game verse, are two that come to mind. Of course, they can't be outdone by the sensual and ridiculous "Silicon Valley." Dem Jointz, who's been on a roll as of late, laces Anderson something lovely with the bedroom-ready track, which uses bass, guitar and sparkling horn lines to set the mood. But it's Anderson's own lyrics that make this interesting, with him letting the lady in his life know that though he wants to get her in the bed, he really wants to get behind that "tender titty meat" and into her heart.
Yes, we might have slept long and hard on Anderson .Paak, but with an album this great, we guarantee we're asleep no longer. The year is very young, but with Malibu, he's put out a strong contender for the best album of 2016.
Anderson .Paak Malibu [Amazon][iTunes][Google Play][Spotify]

- Advertisement -