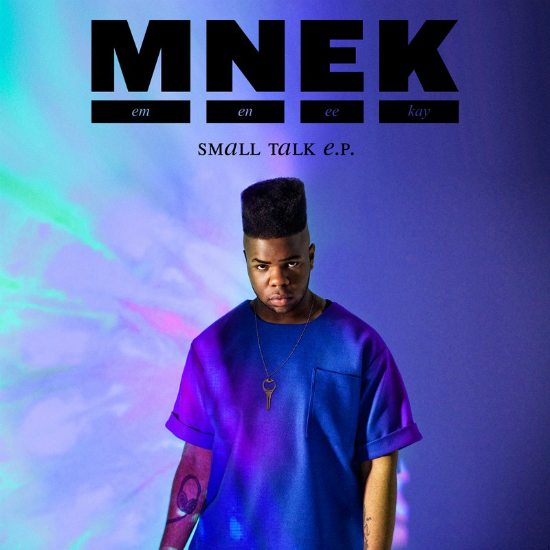 It doesn't take much more than a glance at the pages of SoulBounce to realize that MNEK is a favorite around these parts. Tracks written and produced for and with others, remixes by others of his cherished songs and numerous live renditions all make him a man in demand and for great reason -- he is just that good.
Now the prodigiously talented star takes center stage for his EP Small Talk, but with the slight caveat that the majority of the six songs have been previously released. Which leaves us wondering what impression they leave as a unit and what other tricks MNEK has up his sleeve.
Small Talk's opener "Every Little Word" is just as ridiculously funky as it ever was, lurching funk-wards like the out of control dance floor monster that it is. The b-boy bouillabaisse of 2-step garage, soul and house is ridiculously satisfying on "More Than a Miracle." Once the piano/a cappella intro subsides, "Wrote A Song About You" mines the '90s house sound that has become his trademark. "The Rhythm," with its swaggering carnival rhythms, can only be descried as a certified, straight-up banger.
The final two tracks, however, offer further evidence of the ever-broadening musical palette on offer and, perhaps, a glimpse into what the future could hold for MNEK. "In Your Clouds" is a blissed-out, woozy slice of R&B, but it is "Suddenly," a slightly unsettling, eerie ballad, that really cuts loose from the template of most that has gone before. It also makes crystal clear the abiding impression this EP leaves.
While it was already a given that the cuts here would be dance floor magic, what is most surprising is the quality of both MNEK's voice and the lyrical content. Lyrics such as "Can we afford to be a chord or are we just drifting melodies" (from "Suddenly") or a line like "Lost in the melody, found in the memories" (from "Wrote A Song About You"), make it clear that there is substance to go with MNEK's undoubted style.
And that is the conclusion to be drawn here from Small Talk. MNEK can surely write a dance floor filler, but alongside that is a thriving musical landscape and a poetic lyrical touch. The present is good, but MNEK's future could be even better.
MNEK Small Talk [Amazon][iTunes][Google Play]

- Advertisement -