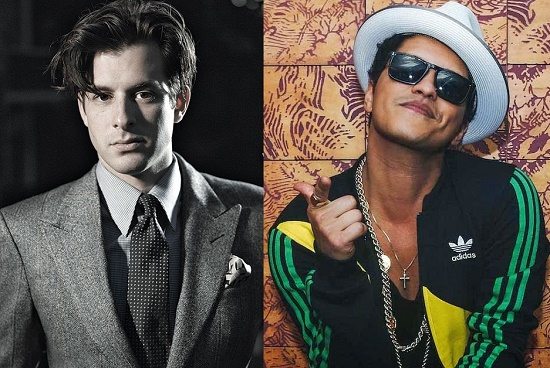 It's been a while since we heard something new from Mark Ronson's way, but the producer is coming back on to the scene swinging. Mark enlists friend Bruno Mars for a funky little ditty appropriately named "Uptown Funk."
Flashing back to the blend of glossy R&B and funk of the '80s (think more The Time, less Cameo), the jam is definitely a party starter, with Bruno bringing his effortless cool and braggadocio to the proceedings. "This here that ice cold / Michelle Pfeiffer / That white gold," the song kicks off before Bruno lets the crowd know he's just too hot to handle. And while that may be true, what's really hot is the groove that's laid down. It's filled to the brim with sticky, vibing bass, synths and horns that don't know when to quit. All that combined with Bruno's near-growling vocal and combustible energy make for a stone cold jam if I've ever heard one.
"Uptown Funk" is the first single from Mark's upcoming new album, a follow up to 2010's Record Collection. In addition to dropping the single, the dynamic duo will also be playing the track on Saturday Night Live on November 22nd. Before they have a funky good time on that stage, take a listen to this funky good time right here.