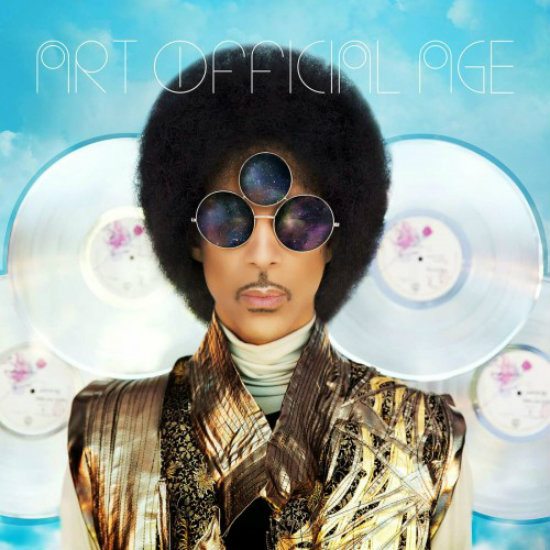 Time and time again, Prince has proven that he doesn't play by the rules, he creates them. So it should come as no surprise that his Purple Highness would release not one, but two albums on the same day. Making the big announcement on today's Good Morning America telecast, the two albums, Art Official Age and PLECTRUMELCTRUM, are both set to drop on September 30th. While Art Official Age is a solo album, PLECTRUMELCTRUM is an album from Prince's backing band 3RDEYEGIRL. Both albums are executive produced by Prince, with 3RDEYEGIRL's album being recorded live and in analog.
The two albums also mark a momentous return for Prince since both albums are set to be released on Warner Bros. Records, the label that Prince famously went up against for the master recordings of albums such as Dirty Mind, 1999, Purple Rain and Sign 'O' The Times. The two new albums also add to an already big year for the normally media-shy musician who got in on the Instagram fun, took over The Arsenio Hall Show, guest starred on an episode of The New Girl and headlined the opening night of this year's ESSENCE Festival where he celebrated the 30th anniversary release of Purple Rain.
Tour dates to support both albums are set to be announced shortly. In the meantime, Art Official Age and PLECTRUMELECTRUM are available for pre-order on via Prince's website and for anyone who orders both albums, you can get an additional 15% off the purchase. Check out the tracklistings for both albums right here, along with links to songs that will find a home on these two highly anticipated collections.
Prince ART OFFICIAL AGE tracklist
ART OFFICIAL CAGE
CLOUDS
BREAKDOWN
THE GOLD STANDARD
U KNOW
BREAKFAST CAN WAIT
THIS COULD BE US
WHAT IT FEELS LIKE
affirmation I & II
WAY BACK HOME
FUNKNROLL
TIME
affirmation III
3RDEYEGIRL PLECTRUMELECTRUM tracklist
- Advertisement -
WOW
PRETZELBODYLOGIC
AINTTURNINROUND
PLECTRUMELECTRUM
WHITECAPS
FIXURLIFEUP
BOYTROUBLE
STOPTHISTRAIN
ANOTHERLOVE
TICTACTOE
MARZ
FUNKNROLL

- Advertisement -