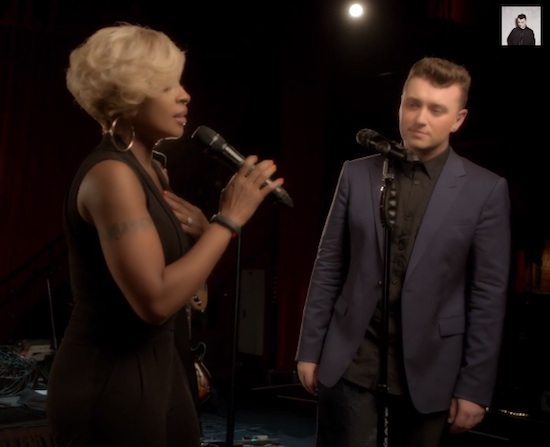 Looking at the calendar, I'm convinced that today is not Tuesday. It's Mary J. Day, as not only is the Queen of Hip Hop Soul doing glossy refashions of Shalamar classics, but she's also latching up to Sam Smith to sing soul-searing duets. It's a real smart move for Mary J. Blige as Smith is currently coasting on overwhelming praise as being the next BIG thing in music (and well, us here at SB called it some time ago), and with joining on a re-worked version of his latest single "Stay With Me," Blige finally gets the proper duet partner she's been searching for all these years.
Smith already swooned sweet gospel out of "Stay With Me" on the solo tip, but with Mary on board, the song stomps even louder in the pews as Blige brings her expressive edge to this already monster ballad. The duo are quite a pair as evidenced by this intimate one-on-one visual, which premiered on Good Morning America. Though simply set-up with just a backing band, your focus is really on how peerless their voices sound together and you can just feel the respect these two have for each other radiate between them as they croon along.
Sometimes even I forget how much Blige can vocally slay, especially in moments where she's given material that hampers her voice rather than amplifies it, but this is a special case though because in all of Blige's 20+ year career and with duet partners coming and going, Sam Smith is a by far a game.set.match for her. Sadly, this version doesn't look like it'll be featured on Sam Smith's upcoming debut, In The Lonely Hour (out June 17th), but hopefully someone out there will correct that mistake because this collaboration (if properly released) could bring back the duet ballad in a big way.