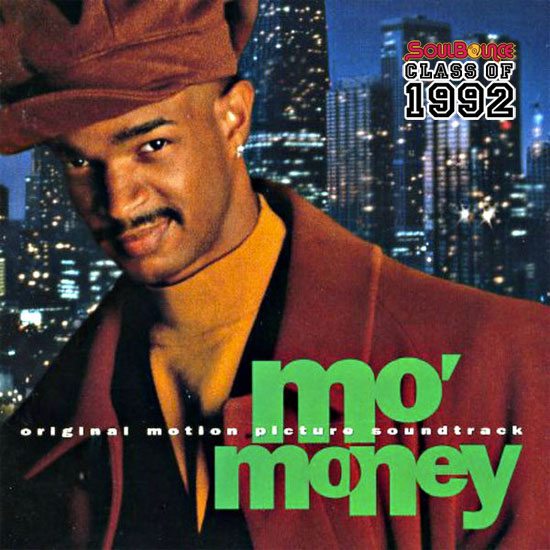 While the movie Mo' Money may not be held in high esteem as one of the great movies of the '90s, it did deliver its fair share of laughs thanks to the Wayans brothers, and a lion's share of music on the soundtrack that came with the New Jack Swing goods. Released in June 1992, the Mo' Money Original Motion Picture Soundtrack served as a creative project for Jimmy Jam and Terry Lewis, the production duo who are up there with Teddy Riley and Babyface as the leaders in shaping the musical landscape of R&B in the late '80s and early '90s.
Filled with uplifting, high-energy, get-your-running-man-on grooves that epitomize the feel-good tone to R&B music at this period in time, the Mo' Money soundtrack might be one of the weaker of all the classic '90's R&B/hip-hop movie soundtracks when compared to the likes of Boomerang, New Jack City and Boyz N The Hood, but it certainly holds its own. With Jam & Lewis at the helm and featuring names that go hand-in-hand with that era -- Janet Jackson, Caron Wheeler, Public Enemy, Johnny Gill, Ralph Tresvant and Mint Condition -- there was no way this soundtrack could not be a success.
Peaking at No. 6 on the Billboard charts, the soundtrack gave us hits, some that defined my tween years, such as Janet Jackson and Luther Vandross' "The Best Things In Life Are Free," which further cemented my desire to be Janet for the first half of the 1990s, and the subtly sexy "Money Can't Buy You Love" by Ralph Tresvant. Both tracks went on to be in the BillBoard Hot 100, along with Color Me Badd's "Forever Love," which, while being a favorite of mine back in the day, is not one of those songs that has aged well, feeling quite heavy on the cheese upon inspection 20 years later.
Other tracks have faired better with time, namely Caron Wheeler's "I Adore You," that featured the trademark New Jack Swing style of the era, and yet still has a sense of relevance to it today, not just nostalgia, and Mint Condition's "My Dear" with its ambient, stripped-back R&B style. But while some tracks are as ageless as the movie's star Stacey Dash, there is something joyful and bright about the feeling around R&B and hip hop at this time specifically. The music was hopeful, even when tackling tough issues and it made you feel good, in much the same way that wearing bright crop tops and baggy jeans did back then. There is no way you can listen to MC Lyte's "Ice Cream Dream" or Sounds Of Blackness' "Joy" without busting out a dance move, any move, whatever your move was back in '92. And trust me, it will feel good.
Some of the artists that were featured on the Mo' Money soundtrack have faded into obscurity and are hanging on to the remnants of fame, such as Color Me Badd who are actually set for an Australian tour this month and have been doing the odd show around Asia for the past few years. We lost Luther who sadly passed on in 2005, but the remainder who contributed to this project are still out there on their grind and many are iconic in stature. Just look at Janet, Mint Condition, Public Enemy and, of course, Jam & Lewis. While the outcome for the artists featured on the Mo' Money soundtrack might differ, one thing that remains and can't be taken away from them is the opportunity to be a part of a period that was classic and timeless in R&B and hip hop.
Various Artists Mo' Money Original Motion Picture Soundtrack [Amazon][iTunes][Google Play]
- Advertisement -