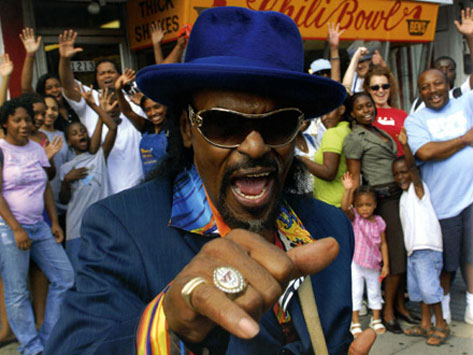 Sometimes the casual nature of Twitter relays information that is too hard to process. Today I learned of yet another soul legend that passed away, this time the "Godfather of Go-Go,"
Chuck Brown
. While this news was not especially shocking since he was reported to have been battling with pneumonia, I was still filled with sadness in knowing that a pioneer in the distinctly DMV art form has gone on to glory.
Center
Chuck Brown was known for his gravelly warm voice and in-the-pocket guitar playing. Most importantly he was known for go-go, that unique gem of a musical genre that he created that has given so much to popular American music despite the lack of its popularity outside of DC, Maryland and Virginia. For those outside of the mid-Atlantic region, go-go is the percussive, drum-driven music that relies on live instrumentation. It's a boisterous, guttural and inherently felt style of music that values the experience of creating music in
the presence of others.
Often hated on (or misunderstood) by those outside of the DMV, go-go is the music of my youth. I'll never forget the first time I "did the butt" with my mom to E.U.'s aptly named hit single, or how I used to terribly butchered the words to Rare Essence's "Overnight Scenario" in grade school because I didn't really understand what they were talking about (I just liked the beat). Or the way I felt beautiful after hearing "Sexy Lady" by UCB on the radio in college, thinking that it really captured the essence of sexual angst that you feel when you're a sophomore at a black college. The music fit my life like a glove.
In recent years it has been harder and harder for strictly go-go artists to perform in the area of its origin because of violence at shows and police wariness of the type of "crowd" the music attracts. As Twitter citizens have been quick to note as well, it's also incredibly rare to hear go-go on DMV radio that is not relegated to the weekends or late-night programs. Even though go-go is changing and evolving, it still has had a lasting impact on black culture and experience. I can't listen to Jill Scott's "It's Love" or Wale's "Pretty Girls" and not think of Chuck Brown's contributions to music. That's what makes his
passing so tough. He created something enduring, unique and beautiful, and he brought joy to so many hearts and ears across the world. May he rest in peace.
[Photo: Brian Liu/ToolboxDC]