Last night was a rather unassuming Monday on the internets. After the
Deion
vs.
Pilar Sanders
battle royale excitement of the afternoon died down, it was business as usual as people settled in to watch
Basketball Wives
,
The Voice
,
Dancing With the Stars
,
RuPaul's Drag Race
,
Smash
, or whatever tickled their television fancy. While the world was minding its business and the day neared its end, little did we know what was being plotted, planned, produced, and packaged up by one
Brian McKnight
, the moderately successful R&B artist who many once likened to
Nat King Cole
because of his smooth soul man stylings.
Shortly before the stroke of midnight, Mr. McKnight uploaded a video to his YouTube channel of a work-in-progress entitled "If You're Ready to Learn." That song title was quite unassuming because I seriously doubt that anyone was ready for the words that would come out of his mouth once they pressed play. Brian prefaced the song by saying that he came up with the idea of doing an "adult mixtape" while on Twitter one night before breaking us off with this particular song's vulgar chorus and some equally risque lyrics. I mean how else would you describe a song that says "Let me show you how your pu--y works, bet you didn't know that it could squirt"? Sir, excuse me? You want to show me what to make my who do huh?
But before I go any further, take a gander at Brian in action, if you haven't already or to relive the magic if you have:
With every ounce of sincerity and not a lick of irony, Brian McKnight was serious as cancer about this "If You're Ready to Learn" bit of tomfoolery and was so proud to share his creation with his fans. That was until the video hit Twitter, went viral, and he became the butt of many a joke. The Brian McKnight roast on Twitter was swift and lengthy, going well into the wee hours of the morning. How he could think that the public wasn't going to take him to task for this coochie carol was beyond me, but he seemed a little incredulous once he hopped on Twitter about an hour after the ruckus started with this sad-sack tweet: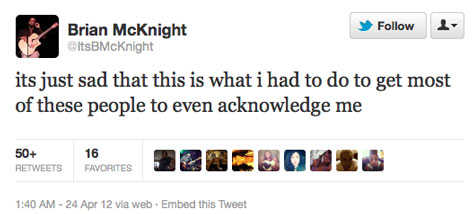 Really, sir? I'm gonna need you to have one stadium full of seats and one stadium full of more people.
For those familiar with Brian McKnight's back catalog, this is not his first walk down Smut Street. After all, the man crooned for a few coins on the Juvenile track "Addicted," singing in part "you're just addicted to what the d--k did." He's not new to the rodeo show, but unlike that song with its clever touches, "If You're Ready to Learn" had very little to redeem itself. The lyrics were cornball, old-man-in-the-club creepy, and not the least bit sexy, and the track sounded like an outtake from his debut album. In 1992.
- Advertisement -
I appreciate Brian McKnight trying to change lanes and go balls out, but this taint the way, dude. R. Kelly and all these young cats like Chris Brown and Jeremih got this. This attempt sounded forced and disingenuous. And if this was in fact a parody as he is now claiming that it is, then he's a great actor because he was straight-faced and so proud of his little foray into audio porn at the time. Bless his heart. I'm sure that his brother, Claude McKnight of gospel group Take 6, has already convened an emergency prayer circle on his behalf.
While Brian McKnight works on completing the song and releasing clean and dirty versions for our listening displeasure, his lapse in good sense has already proven to be the gift that keeps on giving. I'm personally waiting for the Auto-Tune version, remixes, and response records like "What That Di-k Do?" Until then I'll simply enjoy gems like this video of the proposal scene from Martin with a freaky fresh (and devastatingly hilarious) soundtrack courtesy of the Vagina Whisperer.
- Advertisement -
- Advertisement -