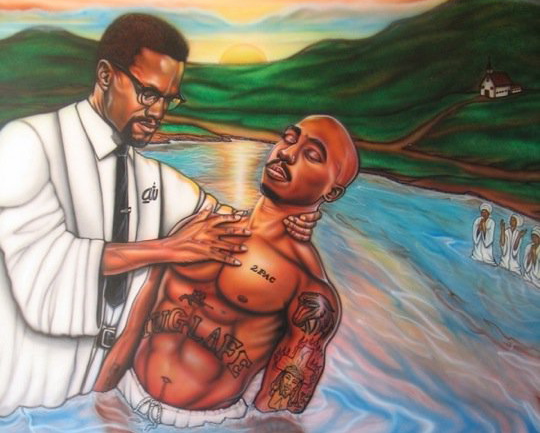 Much like a children's birthday party that extends into the wee hours with adults and liquor, Twitter turns into a completely different entity at night, especially the entity affectionately known as Black Twitter aka Negro Twitter. Many important issues have been discussed on this entity just during this month of January alone, many of these issues involving soon-to-be-published author Tyrese Gibson. Well-known for his misspellings of words in common usage, Tyrese tweeted this painting above (in full after the bounce) with a heartfelt caption:
This came to me in a DREAM it's MALCOLM-X Baptizing TUPAC and it's called "WHAT IF" A lot of questions ran through my mind, What if they met? What if they had joined forces to empower black people? What if?? What if??
What if, Tyrese, we take a moment to evaluate what just isn't right about this entire scenario this painting depicts?
While I appreciate the earnest in which Tyrese explains how his painting entitled "What If?" of Malcolm X baptizing Tupac came to him in a dream, I can single-handedly attest that Muslims do not get baptized nor do they baptize others. Both Malcolm and Tupac were Muslims during their adult lives so let's just chalk up this depiction as exactly what Tyrese described: a "dream."
Let's glance upon Tupac's midsection, shall we? While I'm almost certain that Tupac advocated "Thug Life," I'm not quite sure what "Tug Lafe" is. Is it a new latte? A new way of pleasing oneself? Who knows. I'll just chalk this one up to Tyrese's superior misspelling skills once again.
Who are those three women in the background? Many have surmised that they may be SWV, the cast-aside former members of Destiny's Child, I-Threes, Oaktown's 357, and other musical threesomes.
Not to be outdone with "Tug Lafe," Tyrese explained in an episode of MTV Cribs in 2005 how another painting came to him in a dream as well. This Last Supper of sorts depicts Marvin Gaye as Jesus, surrounded by apostles Lisa "Left Eye" Lopes, Notorious B.I.G., Barry White, Jam Master Jay, Bob Marley, and of course Tupac. No word on if any of Tupac's tattoos are misspelled on this piece. Don't believe me? Video evidence can be found here.
If anything, the first month of this year may be remembered for many things, thousands of birds falling dead from the sky, the Tuscon, AZ tragedy, golden-voiced Ted Williams being plucked from obscurity, but personally I will cling to the memory of Tyrese introducing us all to his dreams, as unintentionally hilarious as he never intended them to be.