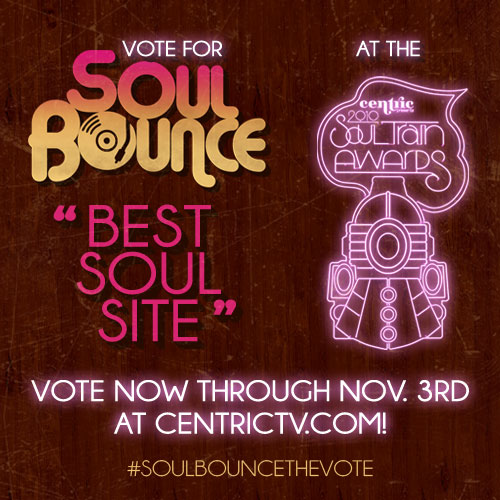 If you were alive in the '70s and/or '80s and were anything like me, then each Saturday afternoon would find you in front of the television getting ready to hop on board the
Soul Train
and take the hippest trip in America.
Don Cornelius
served as the conductor
and each week you couldn't wait to see who was riding the train, what outfits all the passengers were wearing, what new dances they were doing and who the on-board entertainment was going to be. Those were the days, and we hang on to those memories like a warm blanket on a chilly night.
Fast forward to today and although the weekly dance party episodes have ceased, Soul Train is still alive and well and chugging along with the Soul Train Awards, which will be held this year in Atlanta on November 10th and later televised on Centric. Many of our SoulBounce faves are nominated for awards, and guess who else is up for recognition? We are! That's right, folks, SoulBounce has been nominated for a 2010 Soul Train Award for Best Soul Site. This is the first time that this award will be presented to honor soul-centric websites and your favorite urban music blog is a contender to win the award, which will be chosen by a public vote currently underway through November 3rd at 12 noon. We are requesting that each and every SoulBouncer help us to win this Soul Train Award by casting a vote for us on CentricTV.com. It only takes a few seconds to vote and you do not have to divulge any personal information whatsoever. Vote at home, vote at school, vote at work, vote on your phone--just "SoulBounce The Vote" (or #SoulBounceTheVote if you're on Twitter) and help us to win this award as recognition for all of the hard word that the SoulBounce family puts into this website daily and to create some new Soul Train memories.

Center