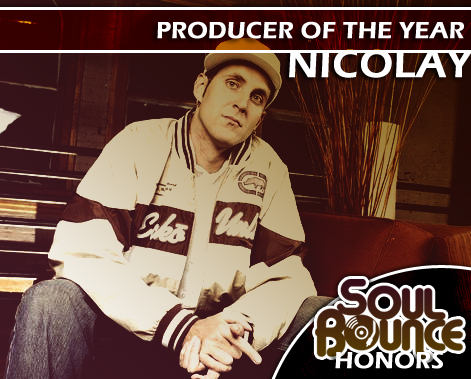 He's good.
I've been banging the drum for Nicolay since this site's inception, and being able to feature and write about him so thoroughly here has been as much a blessing as listening to his music. In 2008, Nicolay earned the distinction of being the only artist to have two album reviews published here as well as an audio interview. I even had the pleasure of seeing him live when he came to D.C. with Kay Jackson to perform tracks from Time:Line. Not a single album in his catalogue has skippable material, not even the straight instrumental joints. There are reasons.
As I said in my review of Time:Line, "Nic mostly lulls the listener into a groove with tracks that are stripped-down yet far from simplistic. Not a single instrument or sample feels out of place or wasted. He gives you exactly what you need, no more no less." This still holds true, but it needs to expanded when accounting for the release of Leave It All Behind. You have to imagine that when he's composing his material, a scene is unfolding before him. It could be the sun gently breaking through the clouds after a stormy night, a celebration in the streets or an ascension to Heaven. His repertoire has a little something for everyone, every mood and every possibility. To solely label him a Hip Hop producer would be doing this cat a tremendous disservice.
The mark of true musicianship is the ability to evoke feelings, even when no lyrics or vocals are present. The music of Leave It All Behind is ethereal, like the Northern Lights decorating the sky in a quiet blaze of color. Throughout the course of the album, you feel things like hope, pride, joy and, above all else, love. You feel these things without shame, even as a lover of Hip Hop that grew to respect Nicolay based on his work with rappers. These aren't your basic time-killing drum loops with some keys thrown in for good measure; these moves are calculated and handled with extreme care. There is no questioning the respect he has for music and how that is channeled into his own contributions.
I've said many times in conversations with my familiars that Nicolay can make the simplest melodies sound epic. Even his small records are overwhelmingly big. All of these reasons are why we call him "The Dutch Master."