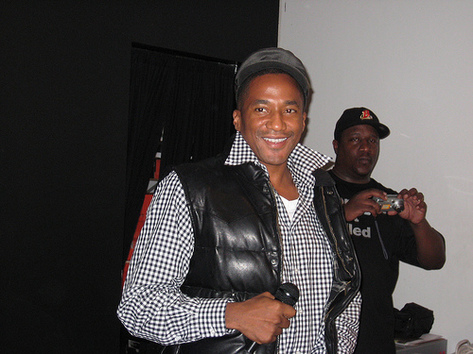 Picture it: Washington, DC. 2008.
Commonwealth
. Your intrepid SoulBounce editors are invited to a small listening party for
Q-Tip
's forthcoming release
The Renaissance,
and the music is presented and played by The Abstract himself! Participants include:
Industry Soul
,
DJ Stylus the Vibe Conductor
,
MN8
,
SolSource
,
Lil SoSo
,
Oddisee
and our very own
SITKOL
. Tip was the humble, engaging and cool cat we've come to know him as. As for the tracks from the new album?
Fire.
After the bounce, check out some more flicks, footage and intel straight from the man himself.

Q-Tip did say it was like Butta, baby.

I met Q-Tip. I can die now.

Vivrant Thang meeting Q-Tip is a self-fulfilling prophecy.
Aside from the lead single "Gettin' Up," Tip treated us to established favorites like "I Believe" (featuring D'Angelo), "Offishal" and "Move" (produced by J Dilla) which have all been leaked in one capacity or another. Then there was "Life is Betta" with Norah Jones and a few other bangers ("Dance On Glass," "Shaka") that succeed in his mission of evoking classic Hip Hop but moving things forward. Unfortunately, possibly due to some earlier technical difficulties, we only got a taste of The Renaissance. But I solemnly swear everyone in the room was feeling it. A Q+A followed and Tip let us in on a few things of note:
He and D'Angelo have a track together called "Ghetto Music" which will appear on D'Angelo's imaginary third album. Also, D'Angelo's new stuff is ridiculously dope. My side-eye landed on that revelation like a big-ass dragonfly on a windshield.
Lynwood Rose, the collaboration between Tip, D and Raphael Saadiq, is going to happen -- it's just a matter of when. But the three of them have been in the studio working together.
The Standard, the group he's formed with Common, is still in the works. Q-Tip is patiently waiting for Com to bless some tracks he's already laid down.
He's still rocking out with Rich Medina every Friday in NYC with the "Open" party.
Obama is, for a fact, on the album.
Phife is recovering from a successful kidney transplant. The donor? His wife. That's love, y'all. We're glad Phife is doing well, but he will always be a part of our prayers.
Tip is getting ready to do some production work on the new albums for two unlikely rappers.
Check out Butta's video from the listening party below to hear Q-Tip wax on about The Renaissance, play some snippets of the aforementioned songs and answer some questions from DJ Stylus, Butta and yours truly.
- Advertisement -
- Advertisement -
- Advertisement -
- Advertisement -
The Renaissance drops November 4th. Hopefully, there will be another renaissance that day. Yes we can!
- Advertisement -
[Images: Vivrant Thang & Butta]
- Advertisement -