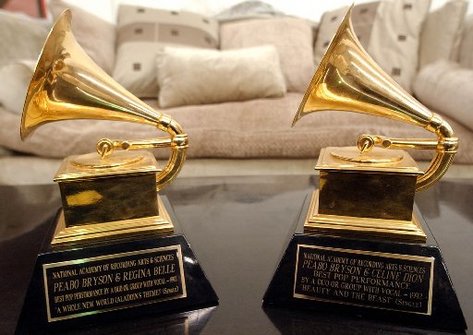 I know there were many of you looking forward to
my complete dismantling of the Internets
if SoulBounce didn't win any
Black Weblog Awards
. Well I'm sorry to inform you that we rightfully won for
Best Music Blog
(popular and judges' vote) and
Best Blog Design
(judges' vote). Chea, boyee! If you're wondering why SoulBounce even gives a damn about a BWA, that's what I'm here to tell you.
In my initial bid for a nomination, I pointed out that a vote for SoulBounce is a vote for quality Black music. When I first conceived SB, it was important for me to have a site that was not only popular but that didn't only feature popular Black artists. To be sure, posting about Beyoncé and Lil' Wayne everyday would've increased this site's traffic exponentially, but that need has been met several times over and quite successfully by our colleagues. SB needed to strike a balance between (1) featuring the underrepresented and unknown and getting no-to-moderate traffic, and (2) getting ridiculous traffic by writing about the usual suspects. A post about Usher or Amy Winehouse does not undermine our efforts if you can also catch up with the likes of Shanice, Syleena Johnson and Peven Everett. SoulBounce totally disproves the notion that you have to rotate the same five familiar faces in order to be relevant and popular.
The more attention SB gets, the more likely people are to discover some of our Bounce-Worthy picks, or other artists that don't get the press, love, and fans they so deserve. When all eyes are on you, you should use that as an opportunity to give your audience something unique and varied. Popular urban radio and magazines rarely, if ever, do this.
With that in mind, I'd like to once again give my partners--Butta, Vivrant Thang, Harlem, ill Mami and new recruit Ro--their props for entries that are well-written, provocative, funny and fresh. They are the best of the best and actually put an effort behind their contributions. SoulBounce updates anywhere from 35 to 50 times a week, and I really couldn't do it without them. Thanks also go to our extended fam, folks like DJ Stylus, Fave, DJ Diva, Rhythmic Soul, Purple Zoe and Felicia Pride that do much to support us on- and offline, as well making their own contributions to The Movement
Special quadruple crazy-fat thanks to Huny for freaking this design and earning us that Best Blog Design award. The BWA judges totally understand the value of a unique artistic approach as well as intense and attentive hard-coding.
Thanks to our crazy and brilliant commenters that keep us on our toes and call us out when we've (I've) stepped over the line. A blog is probably only as good as it's feedback and we have the best audience on the Internet. You guys rock!
But thanks most of all to the artists that uphold the tradition and focus of Soul music. We know you're watching (AAries, Maxwell, Rahsaan Patterson, Trina Broussard, Anthony David, N'dambi, et al). You make this job easy and fun for us and prove to the Black music-loving audience that we do have options, no matter what those other outlets would have us believe.
Let's keep pushing The Movement forward in 2009 and beyond.

- Advertisement -
And the Award Goes To.... [BWA]
- Advertisement -
- Advertisement -