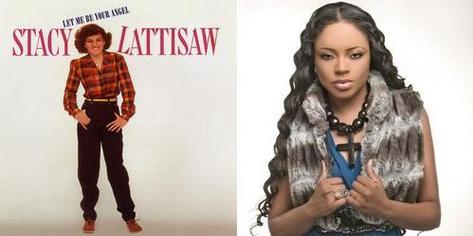 As we
told you
a few months ago, R&B singer
Shanice
is back on the scene, promising a new album before the end of the year. She's definitely on the grind, providing unending entertainment through video diaries on
her YouTube channel
. And now, new music has surfaced on her
MySpace
page. Well, technically, it's not really new, as it's a remake of the 1980
Stacy Lattisaw
classic "Let Me Be Your Angel." Oh, the memories. I used to have the biggest crush on Ms. Lattisaw, so hearing her signature song again was a very good thing. Shanice puts it down, too, staying true to the chorus while re-inventing the lyrics in order to make it her own. It's near the end of the song, however, that she really starts to cut loose, reminding everyone within earshot that vocally,
Flex Alexander
's wife is still not one to be messed with. Take a listen below and let us know what you think. I will now go pull out my June 1981
Right On!
magazine and swoon over Stacy's centerfold poster one mo' time. You know, for old time's sake.
Shanice: "Let Me Be Your Angel"