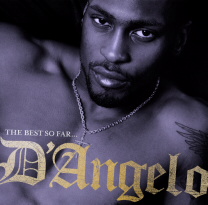 D'Angelo
has firmly established himself as one of the biggest
c**kteases in soul music
. After the quiet, non-label sanctioned release of
Yoda: The Monarch of Soul,
we have what is being touted as the official D'Angelo collection slated for release on June 24th entitled
The Best So Far
...
We understand Virgin's intentions here. They know how badly people are grinding their teeth for some fresh D'Angelo, and why not capitalize from it by releasing this "career-spanning" CD/DVD set? Aside from his biggest hits, the compilation includes his duets with Erykah Badu and Raphael Saadiq, as well as the Prince cover from Scream 2, and a few other "rare," non-album joints. The DVD includes all of his videos and the digital version of the album comes with 4 ringtones. To be sure, this is the definitive set for any D'Angelo fan, who probably owns most of this material yet hasn't been resourceful enough to gather it all in one place. But this fan ain't drinking the punch. He needs to quit with this Maxwellian foolishness and release an album of new material. Shoo... Tracklisting after the bounce.
D'ANGELO: THE BEST SO FAR... (CD/DVD):
CD
1. Lady
2. Brown Sugar
3. Cruisin'
4. Me And Those Dreamin' Eyes Of Mine
5. Smooth
6. I Found My Smile Again
7. Girl, You Need A Change Of Mind
8. She's Always In My Hair
9. Can't Hide Love [live]
10. Heaven Must Be Like This
11. Your Precious Love [Erykah Badu with D'Angelo]
12. Devil's Pie (A Cappella Interlude)
13. Left And Right [with Method Man and Redman]
14. Untitled (How Does It Feel)
15. Send It On
16. Feel Like Makin' Love
17. Be Here [Raphael Saadiq with D'Angelo]
DVD
1. Lady
2. Brown Sugar
3. Cruisin'
4. Me And Those Dreamin' Eyes Of Mine
5. Left And Right [with Method Man and Redman]
6. Untitled (How Does It Feel)
7. Send It On
Ringtones (included on Digital Release)
Left And Right
Me And Those Dreamin' Eyes Of Mine
Send It On
Untitled (How Does It Feel)
- Advertisement -